Suzuki R3 concept car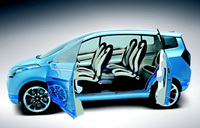 At the 2010 Auto Expo in New Delhi, Suzuki Motor Corporation is displaying its latest Concept car, The R3, which has been designed at Maruti Suzuki India's Research and Development department.
The R3 Concept is a compact MPV that can seat six people in three rows and has been designed as an example of a vehicle that could cater for India's rapidly changing car market and where consumer lifestyles are quickly evolving.
R3 combines compact dimensions and stylish profiling with four wide opening doors without a central B pillar, allowing easy access for all occupants.
Maruti Suzuki is of particular importance to Suzuki Motor Corporation, it has had a major presence there since 1983 and currently holds around a 55 per cent market share of the passenger car market.
To put this into perspective; of the 11 million passenger vehicles currently on the roads in India; over 7.5 million are Suzuki's with Alto the most popular car on sale.
Maruti Suzuki has the capacity to build up to 960,000 vehicles per annum from its highly efficient plants close to New Delhi at Gurgaon and Manesar.
Indian Suzuki owners are very happy too as Maruti Suzuki recently won the J.D. Power Asia and South Pacific customer satisfaction index survey for the 10th year in a row. The index score was 824 out of a possible 1,000 and way above the industry average of 785 points.