Caterham and Sunseeker unite at London Boat Show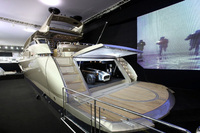 Sportscar maker, Caterham Cars, and luxury super yacht builder, Sunseeker International, have formed a unique alliance to create the ultimate expression of the millionaire lifestyle.
With the London International Boat Show 2010 (LIBS) due to commence on January 8, Sunseeker's Predator 108 Special Edition is making its world debut and will do so with one of Caterham's iconic Sevens stowed in its garage.
Usually reserved for a small sports boat, the garage area at the stern of the Predator is just as capable of storing and launching a sportscar for the transition from sea to land at glamorous locations, such as the harbours of Monaco, St Tropez and Cannes.
The union of the two British companies will last for the duration of the London International Boat Show – open 8-17 January 2010 – with the Predator being the largest craft ever to be displayed inside the ExCel centre, in London's Docklands.
Capable of up to 34 knots, the Predator 108 Special Edition is one of Sunseeker's most extreme, performance-orientated crafts. Noted for its agility and its luxurious fittings, eight guests and up to four crew can be kept in absolute comfort.
While the sea's most desirable cruiser costs from around £7.1 million, a road-going Caterham Seven starts from £12,995. Its lightweight design and eye-watering performance could provide the Predator's owner with as much fun on the roads as the sea, whether in the South of France or Italian isles.
Caterham Cars Managing Director, Ansar Ali, said: "Our two companies have more in common than one might think at first, despite the disparity in vehicle size. The more minimal, performance-focussed approach Sunseeker has adopted for the Predator series may well have been congratulated by Colin Chapman himself and surely any Sunseeker owner would relish the chance to match their experience on the waves with the ultimate drive on the roads."
To see the Predator, with Caterham, and other Sunseeker craft, details of the LIBS can be found at londonboatshow.com. Tickets are priced from £18.
For more information, visit caterham.co.uk.