Suzuki starts New Year with another dealer addition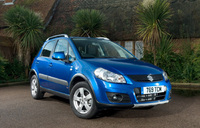 Suzuki is pleased to announce the appointment a new franchise to its dealer network, now bringing the total number of dealers to 149.
The new dealership, Parkside Suzuki, is situated on Newport Road in Barnstaple, Devon and is ideally situated on Rock Park, to ensure local customers can easily get to their nearest showroom to find out more about Suzuki's stylish and fun to drive product range.
Parkside Suzuki is a family business, which has been run by three generations. It is part of the County Garages Group which includes Renault, Mazda, Land Rover and Vauxhall. Speaking about the opening of the Suzuki franchise, Andy Witherington, Dealer Principal commented; "With a three year absence from Suzuki in the Barnstaple area, Parkside are now offering customers a fresh new face to motoring with the Suzuki range."
Suzuki offers a wide range of cars including the highly successful Swift, SX4, Jimny Compact 4x4 and Grand Vitara models as well as the recently launched Alto which is one of the lowest emitting 5-door petrol cars on sale at just 103g/km. Alto has a combined fuel economy of 64mpg and costs just £35 per year in road tax.
Suzuki also has three other low emission (120g/km or less) vehicles in its range which are proving very popular as customers look to make cost savings where they can in today's current economic climate.
The popular SX4 Sport X-Over is styled to look good in any setting and receives some minor styling refreshments for 2010 including a redesigned front bumper, grille, new design alloy wheels as well as upgrades to the interior including a new design dashboard and instruments with driver information display.
SX4 fuses the dynamism of SUVs with the elegance of passenger cars and gives poise and presence beyond the model's compact size. The latest model is available with a new Euro 5 compliant 1.6-litre petrol engine which offers 10 per cent more power; 10 per cent lower fuel consumption and 13 per cent fewer emissions, now just 143g/km for the manual transmission model.
Commenting on the new opening, Dale Wyatt, General Manager of Dealer Development, Suzuki GB, said: "We are pleased to welcome Parkside to the Suzuki network. Our aim for 2010 is to continue enhancing the Suzuki name and scope of the brand. Working with Parkside, we can provide our customers with greater accessibility to the Suzuki range."
To find out more about the Suzuki automobiles range, visit suzuki4.co.uk.