Caterham thrills thousands at Autosport Show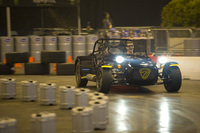 The volume was turned to full blast as the Caterham Drive Experience hit the Autosport International show at Birmingham's NEC over the weekend.
More than 2,000 members of the public experienced a full-throttle assault of the bespoke, indoor drift course with a professional driver at the helm of a Caterham Seven.
A squadron of the iconic sports cars were deployed by Caterham and its technical partner, Comma, for fans to get a taster of the full Caterham Drive Experience, which usually take place at the UK's top race circuits, like Silverstone and Brands Hatch.
Throughout the four-day show, 90,000 visitors sampled Europe's largest dedicated motorsport exhibition, catering for trade professionals and enthusiasts alike, with people queuing throughout the weekend for a chance to sample the Sevens.
This year's show marked the return of the CDX event after a two-year absence and punters were not disappointed by the adrenalin-fuelled ride of their lives.
James Drake, Caterham Cars' Marketing Manager, said: "It's great to see first-timers in the car rendered speechless as they witness a smoking tyre track being drawn through the laws of physics, but even those who have been in the cockpit of a Seven many times still get as much of a blast out of the car. The noise, the smells and sensation of speed always puts huge grins on faces."
CDX days were designed initially as a platform to highlight the joys of owning a Seven. To get behind the wheel yourself, CDX days take place under the guidance of experienced professionals. Participants get to experience the full ability of this legendary two-seater sports car in venues across the UK; the first CDX event of the year kicks off at Brands Hatch on 23 January.
For more information, visit caterham.co.uk.