Experience Sardinia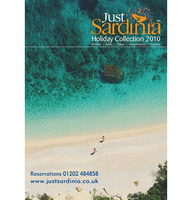 With inspirations and accommodation throughout the island, Just Sardinia can recommend the perfect location for family holidays, honeymoons and weddings, spa breaks, luxury hotels, tours and multicentre holidays and combinations with Corsica and mainland Italy.

New Hotels...

Hotel Valkarana
Situated in a stunning rural location on the shores of Lake Liscia, about 30km inland from Olbia in northern Sardinia, the family run Hotel Valkarana is ideal for a relaxing holiday. It is a place of peace and tranquillity with traditional Sardinian style guest rooms, restaurant and swimming pool all set in lovely gardens overlooking the lake. Prices from £249pp per week.

Hotel L'Ea Bianca
This small and elegant hotel is situated at Cala dei Ginepri just a few kilometres from Baia Sardinia and Porto Cervo on the Costa Smeralda. Situated in secluded gardens, Hotel L'Ea Bianca enjoys panoramic sea views across the Gulf of Arzachena to Caprera Island. Prices from £1544pp per week.

Hotel La Rocca
Situated close to the Costa Smeralda, La Rocca is a classic 4 star Sardinian hotel standing in immaculate gardens with pool, just 800m from the beach and 2km from the popular holiday resort of Baia Sardinia. Prices from £567pp per week.

Hotel Le Palme
A typical Sardinian style hotel situated between Porto Cervo and Baia Sardinia in the heart of the Costa Smeralda, renowned to be Sardinia's most desirable area. Prices from £616pp per week.

Hotel Nascar
Situated in the small town of Santa Maria Navarrese on the dramatic east coast of Sardinia, approximately 100km from Cagliari, Hotel Nascar is a beautifully restored small town hotel just 50m from the beach. Prices from £399pp per week.

Hotel Villas Resort
Situated near Costa Rei in the south east of Sardinia, approximately 75km from Cagliari airport, the newly opened Hotel Villas Resort with stylish accommodation is ideal for a relaxing holiday in beautiful surroundings. Prices from £588ppper week.

Hotel Aquadulci
A small and modern hotel located 300 metres from Chia Beach, named as one of the best beaches in southern Sardinia. Its quiet location makes it an ideal choice for a relaxing holiday. Prices from £700pp per week.

Hotel S'acqua Sassa
Hidden in the countryside near to one of the most beautiful stretches of coast in Sardinia, Hotel S'acqua Sassa is a peaceful spot with lovely gardens, pool and restaurant just 4km from the Costa del Sud and 70km from Cagliari. Prices from £301pp per week.

Alghero Country Resort
Situated in the countryside, just 3km from Alghero town and beach, the newly opened Alghero Resort Country Hotel is contemporary and stylish with pool, spa and tennis in a secluded location. Prices from £399pp per week.

Hotel La Playa
This friendly family run hotel, set in pretty gardens with pool and outside dining terrace, is just 100m from the Lido beach and 2km from the old town of Alghero. Prices from £319pp per week.

New Villas...

Torreruja Villas
Newly built in attractive Sardinian style, the Torreruja Villas enjoy views over Isola Rossa and the sea beyond. The villas are adjacent to Hotel Relax Torreruja where guests benefit from complimentary use of facilities including swimming pool, child minding, after dinner piano bar and occasional evening entertainment.

New Apartments...

Green Village Residence
Set in Mediterranean style gardens with palm trees, Green Village offers attractive self catering accommodation in a fabulous location close to Simius beach, near the town of Villasimius on the beautiful south east coast of Sardinia.

For more information and bookings, visit justsardinia.co.uk.