Chris Packham gets 'really wild' in Scotland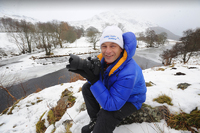 Wildlife photographer and TV presenter Chris Packham spent a day in Highland Perthshire in search of Scotland's elusive winter white wildlife earlier this month.

Chris, who presents BBC2's Snow Watch tonight at 8pm is best known for presenting the children's TV show 'The Really Wild Show' as well as the BBC's 'Springwatch' and 'Autumnwatch' programmes, and was in Perthshire on the lookout for the perfect photograph of white wildlife for VisitScotland's Winter White website visitscotland.com/whitenivite.

White wildlife native to Perthshire in winter includes the ptarmigan, whose plumage changes to brilliant white in winter, the snow bunting, which is a scarce breeding species in the UK and the mountain hare, whose fluffy coat turns white when the temperature drops.

Chris said of his day in Perthshire's beautiful snow topped mountains,

"I'm really thrilled to be visiting Scotland during the stunning winter white season. On our safari today we saw some amazing Scottish winter wildlife. Scotland is rich with fascinating species and some, such as the mountain hare, are almost unique to the country."

In order to reach these well camouflaged and beautiful animals, Aberfeldy based Highland Safaris invited Chris along on their Alpine Safari, taking in some of the most spectacular winter scenery in the UK, with breathtaking views over Schiehallion and Loch Tummel.

Donald Riddell of Highland Safaris said of Chris' visit,

"It was fantastic to get Chris along today to showcase Scotland's wildlife in all of its white glory. Chris' photos were stunning and his trip shows just how easy it is to take in Scotland's amazing winter white scenery."

Scotland is the perfect place for wildlife watching in winter, with many species being difficult to spot elsewhere in the UK. A range of activities and trips are available throughout the country, including:

The Scottish Seabird Centre, Edinburgh and the Lothians
The Isle of May National Nature Reserve, located north of the Firth of Forth, is home to a number of grey seals and is one of the largest grey seal colonies on the east coast of Great Britain. Although the island is inaccessible during the winter period, visitors can watch seal pups in the comfort of the Scottish Seabird Centre through their virtual wildlife watching hub. New for 2009, the Scottish Seabird Centre has an online live stream of footage from the Isle of May. A clip of the seal pups in action from the Seabird Centre's Isle of May camera can be found on visitscotland.com/whiteinvite.

Only available through the VisitScotland Winter White website, The Scottish Seabird Centre are offering 20% off entry until 31 March 2010. Go to visitscotland.com/whiteinvite for more information.

Isle of Mull Wildlife and Birdwatching Safaris, Argyll and the Isles
For wonderful winter scenery and fantastic wildlife a trip to the Isle of Mull is an idyllic getaway this season. Mull is Britain's premier destination for those looking to catch a glimpse of many winter species including white tailed sea eagles.

£37 per person for a full day of wildlife watching, including packed lunch and binoculars. Go to visitscotland.com/whiteinvite for more information.

Seaprobe Atlantis, Highlands
Enjoy spectacular wildlife and scenery above and below the waves in this most beautiful part of Scotland by travelling on the country's only 4 star, semi-submersible glass bottom boat around the Isle of Skye and Lochalsh.

Trips last from 1 to 2 hours and prices are from £12.50 per person. Go to visitscotland.com/whiteinvite for more information.

Highland Safaris, Perthshire
Marvel at the winter white wildlife of Highland Perthshire on an Alpine Safari. Join Highland Safaris for a sub-arctic adventure at nearly 3000 feet in search of red deer, golden eagles, the elusive white mountain hare and even ptarmigan. This charming gamebird turns completely white during the winter months, except for its tail and eye-patch. Travelling in the comfort of a 4x4 vehicle, this trip offers an unforgettable insight into this Highland wilderness, with an endless supply of photo opportunities.

Prices from £37.50 per person. Go to visitscotland.com/whiteinvite for more information.