HL Smith Transmissions gets in gear with first Iveco Daily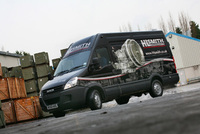 A striking black Daily 35S12 panel van has become the first Iveco to join a 12-strong fleet of light commercials operated by Wolverhampton-based HL Smith Transmissions. The Daily is also the launch vehicle for the company's new corporate livery, which has seen the 3.5 tonner wrapped in high-resolution graphics depicting key commercial vehicle components.
This latest fleet replacement will be used as a product support vehicle for carrying-out mobile diagnostics and the on-site fitting of remanufactured transmissions parts. This will include the installation of manual and automatic gearboxes, differentials, axles, propshafts and power steering boxes into vans, trucks, buses, coaches and specialist military vehicles.
Supplied by Chatfields in Manchester, the Daily is operated by a two-man crew and features a post-crane mounted in the rear of the loadspace which is used for lifting products in and out of the vehicle. The vehicle also carries a full set of tooling together with the latest diagnostics equipment. One of its primary roles will be fitting Allison World Series transmissions into municipal vehicles, typically on-site at commercial vehicle dealerships nationwide.
Russell Smith, Managing Director of HL Smith Transmissions says: "We have a lot of experience working on vehicles in the Iveco range, which led directly to us selecting an Iveco Daily for our mobile support fleet. Driver feedback has been very positive since we put the vehicle on the road and it's living up to the busy nature of life in our fleet.
"Another key reason which made the Daily so attractive was its projected whole life costs, in comparison with our existing light commercials. We typically run our product support vehicles for between three and four years from new, covering an average of 50,000 to 60,000 miles a year, and expect the Daily to deliver savings for the business," he adds.
The Daily is fitted with an array of additional safety features to suit its role as a mobile support vehicle, including the latest Britax slimline roof-mounted flashing beacons, which use 36 low energy consumption LED lights, coupled with twin Brigade colour reversing cameras which relay images to a split-screen viewer mounted in the cab. The reversing cameras ensure the Daily can manoeuvre with precision when operating in busy dealerships and workshops, aided by the vehicle's impressive manoeuvrability and class-leading turning circle.
As the most popular Iveco model sold in the UK, the Daily 35S12 is powered by a 2.3 litre HPI engine delivering up to 116 hp, ensuring it is both flexible in an urban environment and ideal for longer journeys. It also benefits from a generous 1,250 mm wide sliding side door and twin rear doors offering 270 degree opening, guaranteeing excellent access for the crew when working on-site at a customer's premises.
HL Smith Transmissions operates from a four-acre site in Albrighton, near Wolverhampton, with 85,000 sq ft of modern workshops and storage, employing a team of 100 engineers skilled in all aspects of commercial vehicle transmissions. The company has more than 50 years experience providing reconditioned and remanufactured parts to operators throughout the UK and has been heavily involved in maintaining transmissions and axles for the Ministry of Defence logistical fleet since the mid-1980s.