Events for every season in Slovenia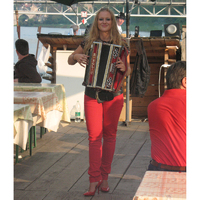 Slovenia is set to host a wide variety of events throughout 2010 including World Cup ski jumping, the Bohinj International Wild Flower Festival, the Cow Ball and cultural carnivals. These are just some of the events being held throughout 2010 in Slovenia.

21st January – 4th April 2010
Pablo Picasso: Bullfights. Myth. Eros

This Ljubljana exhibition of Picasso's work brings together 11 series of prints, including a selection of prints from the Suite Vollard series that art critics consider to be one of the 20th century's most important print series. Bullfights, myths and Eros are recurrent themes in these prints. An accompanying programme of workshops, lectures and film screenings will run alongside the exhibition at Mestna Galerija Ljubljana.

picasso-clave.si


25th – 31st January 2010
World Winter Masters Games in Bled

The pretty town of Bled will play host to the first ever World Winter Masters Games (WWMG) in January 2010.

The games are open to recreational athletes over the age of 25 competing in sports including ice hockey, alpine skiing, cross country skiing, ski jumping and indoor football.

The WWMG's opening ceremony will be held in Bled, with a closing ceremony taking place in Kranjska Gora. There will also be a number of other events for participants and spectators to enjoy throughout the games, including gala dinners, tours of Bled Castle and much more.

This is the inaugural winter sports event for the World Masters Games, but the original event has been staged seven times, with over 20,000 amateur athletes participating in the more recent competitions.

2010mastersgames.com


6th – 16th February 2010
50th Annual Kurentovanje Festival, Ptuj

This annual takes place in Slovenia's oldest city, Ptuj, each spring. Kurenti are figures dressed in sheepskin who go around the town wearing masks, a long red tongue, cow bells, multi-coloured ribbons and sometimes feathers and horns. This is one of Slovenia's most famous carnivals, now in its fiftieth year, which attracts over 100,000 visitors each year. During the festival, Ptuj is alive with music and dancing, competitions and events, plus opportunities to sample local wines and traditional 'Ptuj chicken'.

kurentovanje.net


12th March 2010
Pruning of the Old Vine

The pruning of the official world's oldest vine in Maribor is a ceremonious occasion each spring. The town's vinedresser carries out the pruning and the vine's scions are then presented by the Mayor of Maribor to selected representatives of other wine growing regions as a sign of friendship and co-operation.

maribor-pohorje.si


18th – 21st March 2010
Ski Jumping and Ski Flying World Cup Final

Planica, an alpine valley in the northwest of Slovenia is famous for its ski jumping, being the first place for a jump of over 100 metres to be registered and where the current World Record of 239 metres was set in 2005.

From 18th March, spectators can witness some of the world's top ski jumpers take on the jump at Planica. Traditionally, around 1,500 of the crowd come armed with accordions to play Planica's famous theme song.

Standing tickets cost from €3 per child / €10 per adult and seated tickets start from €30.

For further information and ticket reservations visit planica.si


23rd April 2010
World Book Day

World Book Day marks the official start of Ljubljana's year-long tenure as the UNESCO World Book Capital. Ljubljana is the tenth city to boast this distinguished title and a series of book-related events will take place in the city throughout the year, marking the honour.

visitljubljana.si


22nd May – 5th June 2010
4th International Wild Flower Festival

Bohinj's 4th International Wild Flower Festival features a series of guided botanical tours showing the vast array of plants and flowers in different settings, as well as craft markets, exhibitions, concerts and workshops. Its central focus is on promoting understanding and awareness of all the wild flowers of the Bohinj area, both common and rare plants found from the bottom of the valleys to mountain summits.

The festival programme can be found at bohinj.si


25th June – 10th July 2010
Festival of Lent in Maribor

More than 400 musical performances and half a million visitors make the Lent Festival in Maribor one of Europe's biggest festivals.

The event includes performances of classical, jazz, popular and ethno music staged across 30 venues including outdoor stages and notable buildings including a 400-year-old synagogue.

Other events include singer & songwriter and chanson evenings, theatre and dance performances, concerts, plays and puppet shows, children's creative workshops and sporting events.

The Lent Festival – named after its location in Maribor - also encompasses the International Folkart Festival, the Jazzlent Festival and the Street Theatre Festival.

Full festival tickets costs from €22 Euros and day tickets start from €11. For more information and ticket sales visit http://lent.slovenija.net/.


6th July – 26th August 2010
Ljubljana Festival

The Ljubljana Summer Festival was established over 50 years ago, with the main musical and artistic events taking place over eight weeks in the summer. The 2010 programme will be announced in due course.

ljubljanafestival.si/en/


23rd – 25th July 2010
Bled Days

One of Bled's most famous and traditional events takes place on the fourth weekend in July every year. During Bled Days, the lake is full of floating lights whilst a firework display illuminates the church on Bled island.

Various concerts and entertainment acts adore the promenade alongside an art and crafts fair.

For further information visit bled.si.


17th – 19th September 2010
Cow Ball

The annual Cow Ball celebrates the return of the cattle to the valley after a summer out at pasture.

The festival, known in Slovenian as Kravji Bal, takes place at Lake Bohinj in the heart of the Julian Alps and Triglav National Park.

Cows are decorated and paraded through the dry Govic waterfall, joined by herdsmen, dairymaids and cheese makers.

Traditional Slovenian folk music and dancing can be enjoyed along with festive stall selling local produce and traditional gifts.

bohinj.si


18th – 26th September 2010
10th Festival of the Old Vine – September

The 10th annual Festival of the Old Vine is Maribor's biggest tourist event for the autumn season.

During the festival, events are held in the main square (Glavni trg) and the castle square (Grajski trg). Concerts, wine tasting, traditional Slovenian food sampling and the Old Vine grape-gathering ceremony are just some of the events taking place.

Guests to the festival have the opportunity to meet with wine experts from the area and learn more about Maribor's wine making.

For more information about the Old Vine Festival visit maribor-pohorje.si.


10th – 21st November 2010
LIFFE 21st Ljubljana International Film Festival – November

The 21st annual Ljubljana International Film Festival (LIFFe) takes place from 10th – 21st November 2010, offering cinemagoers a selection of contemporary films from around the world.

As well as screenings of international films, visitors to the film festival will be able to participate in features workshops, interactive multimedia projects and talks.

They will also have the opportunity to vote for their favourite film in the Dragon Audience Award, the winner of which will be granted distribution in Slovenian cinemas. Audiences can vote as they leave the screening or via text message.

For further information and ticket sales visit liffe.si.


This is just a selection of the events taking place around Slovenia during 2010. For full listings and further event details, see Slovenia.info.