RRG Group joins expanding Suzuki dealer network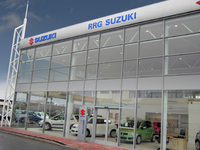 Suzuki is pleased to announce the appointment of a new franchise to its dealer network, bringing the total number of dealers to 150.
The new dealership, RRG Suzuki, is situated on Rooth Street in Stockport and is ideally situated just off the M60 Motorway in its new purpose built facility. RRG Suzuki is now open for business and can be clearly seen from a distance by its 6 metre high Totem, the largest of its type.
The RRG Group has over 40 years of experience in the motor industry having started out as an Esso petrol station in Bolton in 1967. The Group quickly established itself as a major player in the North West. Today, RRG has a total of five manufacturer franchises (Suzuki; Toyota, Lexus, Peugeot, Mazda) and specialises in new and used car sales, after sales, parts and accessories and also boasts two successful accident repair centres.
Suzuki offers a wide range of cars including the highly successful Alto, Swift, SX4, Splash, Jimny Compact 4X4 and Grand Vitara models. Alto is one of the lowest emitting 5-door petrol cars on sale at just 103g/km with a combined fuel economy of 64mpg and costing just £35 per year in VED.
Suzuki has four low emission (120g/km or less) vehicles in its range which are proving very popular as customers look to make cost savings where they can in today's current economic climate.
One of the latest models on display at RRG Suzuki is the SX4 Sport X–over which received some minor exterior styling refreshments for 2010 as well as upgrades to the interior including a new design dashboard and new instruments with driver information display.
SX4 fuses the dynamism of SUVs with the elegance of passenger cars and gives poise and presence beyond the model's compact size. The latest model is available with a new Euro 5 compliant 1.6-litre petrol engine which offers 10 per cent more power; 10 per cent lower fuel consumption and 13 per cent fewer emissions, now just 143g/km for the manual transmission model.
Commenting on the new opening, Dale Wyatt, General Manager of Dealer Development, Suzuki GB, said: "We are pleased to welcome RRG Suzuki to the network. RRG has a long and successful history in the motor industry and we are eager that Suzuki can get involved with them and together work towards an exciting future."
Tony Cliff, RRG Group Operations director commented "We are really pleased that the new development is complete and we are ready for business. We are delighted to have Suzuki as our latest partner and we're confident that this growing brand will further strengthen the RRG Group's brand and compliment the existing franchise representation"
To find out more about the Suzuki automobiles range, visit suzuki4.co.uk.