Couple find independence with HomeBuy Direct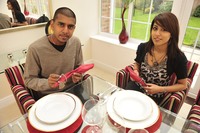 Like many young couples, Trupesh and Bijal Raval have long dreamed of investing in their future by purchasing a home together – but unable to afford a substantial deposit, they found the first rung of the property ladder out of reach.

That was until they discovered Taylor Wimpey's Sandringham development in Eastcote, Middlesex, where the fantastic HomeBuy Direct initiative has enabled them to finally find their freedom with the home of their dreams.

This incredible incentive, jointly funded by the leading housebuilder and the Government's Homes and Communities Agency, allows qualifying first-time buyers to purchase a home for only 70% of the price tag.

The remaining sum is covered by a great-value loan which acts as a 30% down-payment on the property, and is interest free for the first five years and low interest for up to 20 years thereafter.

For city data analyst Trupesh (28) and his 25-year-old wife, who works as a beauty therapist, HomeBuy Direct has been life-changing.

"Until we came across Sandringham, buying our own home hadn't really been an option for us. We had no choice but to rent but that wasn't a situation we were happy with because it's just paying someone else's mortgage," says Trupesh.

"Now we've found the home we really wanted in a great location and HomeBuy Direct has helped us get a foot on the property ladder, and hopefully we've now taken a big step towards securing our future."

Trupesh and Bijal swapped their one-bedroom rented flat in Harrow for a superb two-bedroom, first-floor apartment with a private balcony at Sandringham – and their mortgage repayments are only slightly more than their previous rental bills.

The pair admit they had a clear idea of the kind of home they were searching for and were unwilling to settle for anything less.

"We were very fussy in terms of what we were looking for and knew exactly what we wanted," Trupesh adds.

"A lot of the apartments going up around London at the moment are in huge developments with lots of flats in big blocks, but Sandringham was different. We love the small apartment blocks, and the plot we chose is a really generous size.

"The semi-open-plan kitchen and the balcony were big plusses for us, and the fact that it's a new build means we won't have to worry about any maintenance headaches. Taylor Wimpey even agreed to include a washer/drier and fridge/freezer in the purchase price, which was another major bonus."

HomeBuy Direct is still available on selected brand new homes at Sandringham, where one-bedroom apartments are priced from only £209,995 before the initiative is applied, two-bedroom apartments from just £242,995, and three, four and five-bedroom houses range from £359,995 to £414,995.

The initiative is open to qualifying first-time buyers with a combined household income of less than £60,000.

For those with a property to sell, Taylor Wimpey's easymover programme lets them reserve their brand new home at Sandringham and then sit back and relax while the housebuilder finds a buyer for them – usually within six weeks.

All incentives can be tailored to customers individual circumstances and are subject to availability. Further information is available from the Sales Executive.

Sandringham is perfectly positioned between Ruislip and Eastcote High Street with a superb array of shopping facilities and transport links.

Local stores, including Marks & Spencer and Waitrose, cater for everyday needs, while a wider choice of shopping outlets can be found nearby at The Chimes Shopping Centre in Uxbridge and the Harlequin Shopping Centre in Watford.

Commuters choosing to enjoy Sandringham's laid-back lifestyle are well catered for, with the M40 and M25 a 15-minute drive away and direct local bus services to Pinner, Northwood and Ruislip. The development is also equidistant from East Ruislip, Eastcote and Ruislip Manor stations on the Metropolitan and Piccadilly lines, and, only a little further on foot or by road, South Ruislip and West Ruislip stations on the Central Line.

For more information on HomeBuy Direct and the range of properties available at Sandringham, visit the Sales Centre located off Lime Grove, Eastcote, and open seven days a week from 10.30am to 5.30pm. Alternatively, log on to taylorwimpey.co.uk for more details.