Cadillac launches biggest-ever european marketing campaign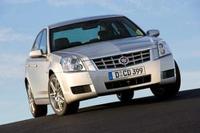 Cadillac & Corvette Europe has announced its biggest-ever marketing campaign to promote the launch of the all-new Cadillac BLS. The multi-phase campaign will culminate with the new premium mid-size Cadillac appearing in showrooms across Europe from spring 2006. In addition to various above-the-line activities, the campaign involves a dedicated Cadillac BLS website and an intensive online banner campaign.
Dedicated BLS website
One of the most important features of the dedicated Cadillac BLS website in terms of direct marketing will be the use of a game in which prospects are challenged to 'unveil' the Cadillac BLS and win exclusive prizes. The website game aims to acquaint consumers with the new car and gives visitors the opportunity to 'Tell a Friend'. As a further incentive, visitors will also be invited to register for Cadillac's Insider Program. Those who register will be sent the latest news on Cadillac and the Cadillac BLS.
Online banner campaign
The launch of the Cadillac BLS and its dedicated website will be supported by a pan-European online campaign. This will utilise high-impact banners, ranging from tandem ads to customised animations, to maximise exposure.
Dutch interactive marketing agency Bookmark has been appointed by Cadillac & Corvette Europe to create the Cadillac BLS website and the online campaign, as well as taking care of CRM and all other direct marketing activities. Advertising agencies Bühler & Partners (Frankfurt, Germany) and Chemistri (Detroit, USA) are responsible for the above-the-line activities. The first media campaign activities for the Cadillac BLS start by the beginning of next year.
Cadillac aimed at Europe
When it is launched in spring 2006, the Cadillac BLS will be the first model from the American brand to be manufactured in Europe. The all-new compact four-door saloon is specifically targeted at the European market and at the premium mid-size segment. The Cadillac BLS offers distinctive style with sharply defined contours, characteristic wedge profile and a contemporary, elegant interior.
As well as distinctive styling, the Cadillac BLS features ride quality and acoustic comfort among its prime strengths, along with dynamic driving performance from its front-wheel drive power train. The Cadillac BLS will also make Cadillac brand history as the first model to offer a turbo-diesel engine, a prime requirement in European markets, alongside the choice of three petrol engines.
Cadillac has recently launched a string of new models in Europe. These include the CTS (right-hand drive as well as left-hand drive) and STS saloons, the XLR roadster and the SRX all-wheel drive estate car, and with the introduction of the new BLS, Cadillac is rapidly being recognised as a stylish alternative for premium car buyers throughout Europe.