Cadillac sparks great British roadshow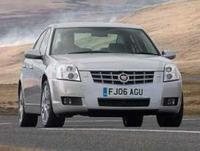 Cadillac, in association with the charity SPARKS, is embarking on a nationwide tour to launch its new midsize executive saloon the BLS. The Cadillac BLS Launch Tour will visit 84 motorway service areas over a two-week period to showcase the new BLS to a potential audience of over one million motorists.
The tour begins on Friday, April 28 and concludes on Thursday, May 11 and monies raised during the event will be donated to SPARKS. Many of the venues will be supported by the attendance of SPARKS sports celebrities.
The all-new right hand drive Cadillac BLS range of executive saloons offers a choice of 12 models featuring one turbo diesel engine and three turbo petrol engines, each with manual or automatic transmission, and three equipment levels. Prices start at £19,950.
Alistair Welham, Cadillac's Head of Marketing for the UK, said, "Taking a new Cadillac to motorway service areas is a very effective and novel way to showcase the BLS to a very large number of people, many of whom as business motorists are one of our key target audiences."
SPARKS, founded in 1991, funds pioneering medical research that has a practical, positive impact on the lives of babies and children. Since its establishment, SPARKS has funded 152 medical projects in the UK, committing over £12 million to tackle conditions as diverse as cerebral palsy, meningitis, the dangers of premature birth, spina bifida, childhood arthritis and cancers.
SPARKS president Martin Johnson, CBE, England's World Cup winning rugby captain, said: "Cadillac and SPARKS should certainly make for a winning team, too. We're very grateful to Cadillac for making us the benefiting charity of their new model launch.
"It's the kind of corporate partnership that can help us achieve our goal of helping all babies to be born healthy and grow up healthy. Not enough people realise that pioneering paediatric research in the UK is heavily reliant on charities like SPARKS rather than the public purse."
Martin will be representing SPARKS to receive the final fundraising cheque at the end of the Cadillac BLS Launch Tour in Birmingham on May 11.