Rick Wakeman drives off Cadillac / Sparks Roadshow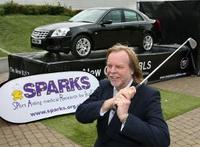 Rick Wakeman, the world renowned keyboard player both as a member of the rock band YES and as a solo artist, drives off the Cadillac/SPARKS Roadshow from the London Golf Show at ExCel. Cadillac, in association with the charity SPARKS, is embarking on a nationwide tour to launch its new midsize executive saloon the BLS.
The Cadillac BLS Launch Tour will visit 84 motorway service areas over a two-week period, from April 28 to May 11. Monies raised during the event will be donated to SPARKS, whose celebrity supporters will attend several of the venues on the tour.