Jimmy Hill, a Cadillac and a ids' charity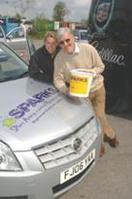 Soccer legend Jimmy Hill, OBE, and legendary car maker Cadillac teamed up on Sunday May 7 to support children's medical research charity, SPARKS.
Motorists stopping at the motorway service station at MOTO's Pease Pottage site were surprised to find Jimmy standing in front of the new Cadillac BLS and selling raffle tickets.
Jimmy, who is Life President of SPARKS, said: "It's fantastic that such a famous brand as Cadillac has chosen SPARKS as its charity linked to the launch of the new model. I'm hoping that by dashing from the Sky Studio presenting my soccer chat show helped raise as much money as possible from generous motorists. All the money raised from SPARKS' relationship with Cadillac will go towards vitally important children's medical research."
The Cadillac BLS Launch Tour culminates in Birmingham on Thursday May 11 when all monies raised from the nationwide tour will be presented to SPARKS president Martin Johnson, CBE, England's World Cup winning captain.
To date SPARKS has committed over £12 million to finance more than 160 pioneering medical research projects into conditions affecting babies and young children. Childhood cancers, meningitis, spina bifida, cerebral palsy, brain damage and the complications surrounding premature birth are just a few of the research areas that benefit from SPARKS funding.