Cadillac BLS launch tour raises £10,000 for SPARKS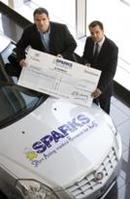 The nationwide Cadillac BLS Launch Tour, which visited 84 motorway service areas over a two week period, has raised £10,000 for the children's medical research charity, SPARKS.
Accepting a cheque for £10,000 from Mark Axten, brand director for Stratstone Cadillac, SPARKS president Martin Johnson, CBE, England's World Cup winning rugby captain, said: "I am grateful to Cadillac for its initiative of combining a new car launch with raising funds for SPARKS. It is this kind of corporate partnership that can help us achieve our goal of helping all babies to be born healthy and grow up healthy."
The cheque was presented to Martin Johnson by Mark Axten on the morning of Thursday May 11 at the Stratstone Cadillac dealer in Digbeth High Street, Birmingham.
The Cadillac BLS range starts from £19,950.