Corvette Racing's extends winning streak at Mid-Ohio ALMS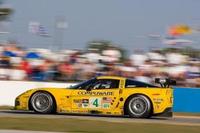 Corvette Racing continued its all-conquering reign in the American Le Mans Race Series (ALMS) at the Mid-Ohio Sports Car Course with the team's fifth consecutive 1-2 class victory last Sunday (May 21). Oliver Gavin and Olivier Beretta extended the team's winning streak with their fifth straight win in the GT1 class. Meanwhile, team mates Ron Fellows and Johnny O'Connell achieved their fifth consecutive second place.
The Mid-Ohio ALMS also proved to be a record-breaking event for the winners Gavin and Beretta, who achieved their eighth consecutive class victory, a winning streak that began in July 2005. In addition, Corvette Racing equalled the series record for most consecutive GT1 victories by a marque with its 12th straight win, and Beretta notched a personal career record with his 27th ALMS win.
Gavin and Beretta drove their Compuware Corvette C6.R to a 1.833-second victory over the Compuware Corvette of Fellows and O'Connell, as the team's Corvettes finished one lap ahead of the two Aston Martin DBR9s.
"The car was just magic and it performed brilliantly," reported Englishman Gavin, who took the lead in the GT1 class on the first lap, passing the pole-winning Aston Martin as the green flag dropped. The lead Corvette extended its advantage to 27 seconds before the first round of pit stops, when Beretta replaced Gavin and Fellows replaced O'Connell after just over one hour of racing. The second round of pit stops took place under caution at 2:03 hours and a savvy pit stop strategy by Corvette Racing left their rivals one lap down. The second stop also decided the race between the two Corvettes, when the Fellows and O'Connell Corvette stalled during its pit stop.
"Olly [Oliver Gavin] did a perfect job as usual, the crew did fantastic pit stops, and the Corvette C6.R was very strong and very fast," said Beretta. "My car was just a little loose at first, but after the second yellow, the Corvette was flying and I was cruising. The most important thing is that after two difficult races in a row, we have two perfect cars to fly to France for the 24 Hours of Le Mans."
The two contenders from Corvette Racing and their extensive equipment will shortly be travelling to France in preparation for the official test day at Le Mans on June 4.