Cadillac and Corvette at the British International Motor Show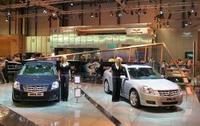 Cadillac and Corvette will debut at the British International Motor Show by showcasing the full range of models available for sale in Europe. Cadillac will feature the all-new right-hand drive BLS range of premium midsize saloons supported by the right-hand drive executive saloon, the CTS. Also on display will be the versatile, all-wheel drive SRX (available with right-hand drive later this year), the luxury STS saloon, the XLR roadster and the new Escalade. The Cadillac range offers arguably the widest choice of engines from a 1.9 litre turbo-diesel developing 150 hp through to a 6.2 litre V8 with 409 hp. The British International Motor Show is being held at ExCeL, London from July 20 to July 30 inclusive.
Sharing the spotlight with Cadillac will be the legendary Corvette, in both coupe and convertible forms. The sixth generation Corvette combines raw performance with agility and comfort in a contemporary design. The Corvette C6 6.0 litre V8 engine produces 404 hp, while the race-bred Corvette Z06, the fastest and most powerful production car ever offered by General Motors, has a 7.0 litre V8 engine developing 512 hp.
Cadillac BLS
Designed, engineered and built in Europe, the right-hand drive BLS has been created specifically with the requirements of European drivers in mind. This front-wheel drive four-door premium midsize saloon offers a range of one turbodiesel and three petrol engines, delivering 150 to 255 hp. The BLS is distinguished by its clear, sharply defined contours, striking wedge shape and distinct Cadillac vertical taillights on the outside, with high quality interior materials and a spacious cabin for up to five passengers. Features include high-fidelity Bose sound system with radio, six-disc CD player and seven speakers, dual-zone automatic air conditioning and parking assist. The BLS range is priced from £20,728.
Cadillac CTS
A right-hand drive luxury sports saloon with a European driving feel, the rear-wheel drive CTS is offered with a choice of a 2.8 litre V6 engine developing 215 hp or a 3.6 litre V6 engine with 257 hp, both with a five speed automatic transmission. Standard equipment on all models includes StabiliTrak (including brake assist and a limited slip differential), traction control, heated front seats, cruise control, six airbags, split/folding rear seats and a Bose premium eight-speaker sound system. In addition, the Sports Luxury models feature Xenon headlamps and leather upholstery as standard, while the 3.6 litre V6 Sports Luxury model also includes a satellite navigation system. Prices for the CTS range from £24,895.
Cadillac SRX
Combining the driving dynamics of a luxury station wagon with the off-road abilities and interior space of a sport utility vehicle, the all-wheel drive SRX is Cadillac's first crossover vehicle. Two engines are offered: a 3.6 litre V6, with 258 hp and 339 Nm of torque, and a 4.6 litre Northstar V8, with 315 hp and 418 Nm of torque. Five-speed automatic transmission is available with both engines, offering Driver Shift Control for clutchless manual shifting. The split rear seats fold down to provide 1,960 litres of cargo space. Alternatively, an optional third row of seats turns the SRX into a seven-seater. The innovative 'Ultra View' electrically-operated glass sliding roof gives those in the first two rows the thrill of open-air motoring. Active and passive safety features include StabiliTrak stability control, TCS traction control, four-channel ABS with Panic Brake Assist, Magnetic Ride Control, and speed sensitive variable effort steering, plus six airbags and front seatbelt pretensioners. The SRX is priced from £29,895.
Cadillac XLR
The rear-wheel drive, two-seat convertible roadster XLR is powered by a 4.6 litre Northstar V8 engine with 326 hp, delivering a 0-62 mph time of 5.6 seconds and a 155 mph top speed. Luxury standard features include leather upholstery, satellite navigation system, head-up display, seat heating and cooling, and Bvlgari designed instrument gauges. The electrically operated roof, which takes 30 seconds to fold down, is powered by eight hydraulic cylinders and has a heated glass rear window. Technical particulars of the XLR include Adaptive Cruise Control, Magnetic Ride Control, StabiliTrak, keyless access with push button start, and DVD navigation and entertainment system. The XLR costs £57,545.
Cadillac STS
The rear-wheel drive luxury touring saloon STS boasts a choice of two engines, a 3.6 V6 and a 4.6 Northstar V8. The five-speed automatic transmission includes Driver Shift Control. Standard specification, includes Keyless Access system with push-button start, heated seats and steering wheel, eight-way power adjustable front seats with memory package, dual zone climate control, six airbags, traction control, antilock braking system and Panic Brake Assist. The STS is larger than the CTS and offers a spacious and stylish interior, with an emphasis on high-quality fit and finish. Prices for the STS start at £33,595.
Cadillac Escalade
The second-generation Cadillac Escalade is expected to arrive in the UK late in 2006. Power comes from a 409 hp 6.2 litre V8 engine, mated to a highly efficient six-speed automatic transmission with Driver Shift Control. The left-hand drive SUV boasts an all-new exterior and spacious interior, with sumptuous levels of refinement and style. An enhanced array of audio, infotainment and safety options include an eight-inch touch-screen navigation system. Seven seats are arranged over three rows and the third row can be easily folded forward or can be removed for maximum cargo capacity. Prices for the Escalade will be confirmed closer to its launch.
Corvette C6
The left-hand drive Corvette C6 is powered by a 6.0 litre V8 engine with 400 hp and 542 Nm of torque. With the six-speed manual transmission, maximum speed is 186 mph and 0-62 mph is covered in 4.2 seconds. An optional electronically controlled six-speed Paddle Shift automatic transmission is available. The C6 is available in either coupe or convertible guise. Technological features include Keyless Access with Push Button Start, head-up display, power telescopic steering column, auto dimming mirrors, DVD navigation-entertainment system with seven premium Bose speakers, and heated seats. Three dynamic chassis control systems are programmed to work together to be unobtrusive to the spirited driver – antilock braking, traction control and Active Handling. The C6 range starts at £46,595.
Corvette Z06
Developed alongside the Corvette C6.R Le Mans race car, the highest performance Corvette Z06 is powered by a 7.0 litre V8 engine. With 505 hp and 637 Nm of torque, the Z06 is the most powerful passenger car ever produced by General Motors, with a top speed of 198 mph and a 0-62 mph time of 3.7 seconds. Unique features to the Z06, which has a body three inches wider than the C6, include the extensive use of lightweight carbon-fibre composite materials and unique frontal area with larger grille, cold air scoop and lower air splitter. Interior features include Keyless Access with Push Button Start, head-up display with track mode and g-metre, gauge cluster with Z06 logo, power telescopic steering column, Bose audio system with six-CD in-dash changer, GPS navigation system, XM Satellite Radio, and heated seats. The Z06 is priced at £59,895.