Cadillac BLS economy test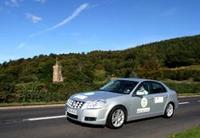 The Cadillac BLS 1.9 Turbo Diesel made its debut in the 2006 AA / ALD Automotive MPG Marathon on October 4 and 5. The two Cadillacs taking part achieved overall fuel economy of 55.6 mpg and 52.1 mpg respectively, placing them 2nd and 3rd in class on fuel consumption achieved, over the testing 360-mile route in the West Country.
The MPG Marathon, organised by Stag Publications, was open to entrants driving standard production cars, LCVs and light trucks. The route took competitors from Bristol to Newquay and back again, over a variety of roads, primarily main roads and country lanes. Final results were judged on both the outright fuel consumption achieved, as well as the percentage improvement obtained in relation to the official combined mpg figure.
The 1.9-litre BLS is the first Cadillac available with a turbo diesel engine and has an official fuel consumption of 46.3 mpg on the combined cycle. Prices for the Cadillac BLS range start at £20,728.