Corvette Racing and Team Cadillac season finales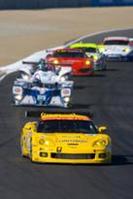 While Corvette Racing capped Corvette's 50th anniversary in international motor racing with victories in the American Le Mans Series manufacturers', drivers' and teams' championships, Team Cadillac scored a podium finish in the final round of the SCCA SPEED World Challenge GT, to claim 3rd place in the manufacturers' final standings. Both season finales took place at Laguna Seca Raceway in California on October 21 and 22 respectively.
A second place finish by teammates Oliver Gavin and Olivier Beretta in the No. 4 Compuware Corvette C6.R at the Monterey Sports Car Championships (round 10 of the ALMS) sealed Corvette's sixth consecutive manufacturers' title and earned the drivers their second straight championship title.
The four-hour ALMS race was a battle from start to end as all four GT1 contenders finished within one lap of each other. The first placed Aston Martin DBR9 won by just 4.945 seconds over Gavin and Beretta, while the No. 3 Compuware Corvette C6.R of Johnny O'Connell and Ron Fellows took third place, a mere 0.474 seconds ahead of the second Aston Martin.
"It's fantastic that we have won the championship again," said Gavin. "This season has had some ups and downs, some great racing and some frustrating racing, and in the end we've come through. It was really close at the finish today and we didn't know whether Olivier was going to be able to catch the lead Aston Martin. He got close but hit traffic, and then we just ran out of time."
"We had two options today," said Beretta. "Olly and I knew we just had to finish the race to win the drivers' championship, but on the other hand we really wanted to win the manufacturers' championship. So I tried to forget about the drivers' championship and push hard to show that Corvette was still number one, even with all of the handicaps we have been given this year. Corvette Racing is a great team and they gave me a great car. This is my fourth ALMS championship, but this one is the sweetest."
Meanwhile, all three of the Team Cadillac's CTS-V race cars survived the season's finale of the SCCA SPEED World Challenge GT, but all bore battle wounds of the 27-lap race. After being hit from behind on the first lap, Max Angelelli ploughed his way through the pack to finish third and claim a podium place. Andy Pilgrim shrugged-off a third-lap spin to finish eighth in the race and third in the drivers' championship. Johnny O'Connell suffered damage following a restart and finished in 12th place.