Cadillac debuts Platinum series at Los Angeles Auto Show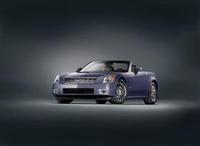 Cadillac has announced the introduction of a limited-edition Platinum Series for the XLR roadster and STS saloon. The new range will bring additional elegant design touches, further extending Cadillac's reinvention of its interior styling and appointments.
Cadillac's XLR-V and STS-V will be available in Europe during the second quarter of 2007, adding to the brand's credentials in the elite-level performance arena. The new Platinum Series aims to do the same within the luxury sector. The vehicles were inspired by the very popular Escalade ESV Platinum that was offered in the USA between the 2004 and 2006 model years, introducing many new features to the luxury SUV marketplace.
"The Platinum Series is a natural addition to the Cadillac brand, extending the luxury appeal of our products," said Cadillac General Manager Jim Taylor. "Platinum also joins the new 2007 SRX and our V-Series cars as examples of Cadillac's return to hand-crafted interiors, an important extension of our brand renaissance."
Cadillac's limited-edition XLR Platinum and STS Platinum models feature ultra-premium details such as a generous use of chrome, authentic wood and luxurious upholstery, as well as Cadillac's precision hand-crafted interiors, executed by craftsmen who cut, wrap and sew cabin components individually.
Cadillac & Corvette Europe has not decided yet whether the Platinum versions of both models will be sold in Europe.