Corvette Z06 named Best Fast Car of the Year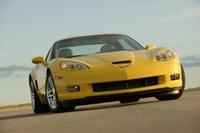 The Corvette Z06 has been named "Best Fast Car 2006" by popular TV motoring programme Fifth Gear.
The American icon, recognised for outstanding performance and excellent value for money, was chosen for, '… offering a driving experience that is as good as any supercar'.
Commenting on the award, Gerard Jansen, Chief Operating Officer of Cadillac and Corvette Europe, said: "This is a fitting tribute to the designers and engineers that are responsible for producing the ultimate sports car."
The Corvette Z06 is priced at £59,895. For further information, go to stratstone.co.uk.