All-new Cadillac CTS coming soon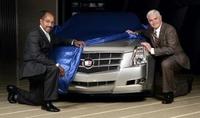 Ed Welburn, GM Vice President, Global Design (left) and Bob Lutz, GM Vice Chairman, Global Product Development, have provided a sneak preview of the all-new 2008 Cadillac CTS. The luxury mid-size saloon will be fully revealed at Detroit's North American International Auto Show in January. Production is due to begin in late summer 2007 and worldwide sales will follow in the autumn.
Cadillac's first-generation CTS has established a strong record of success since its introduction in 2002. Cadillac sold more than 60,000 units in the USA in 2005, compared to approximately 38,000 in 2002, an increase of more than 50%. According to industry researchers AutoPacific, there are approximately 275,000 Cadillac CTS owners worldwide and they are among the most satisfied in the automotive market. AutoPacific rated CTS as the top Entry Luxury Car in its annual Vehicle Satisfaction Awards in 2006.