Cadillac CTS will drive phase two of GM luxury brand's UK launch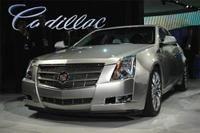 Cadillac will reach the end of phase one of its launch in the UK at the end of this year, and the car that will spearhead phase two was launched at Detroit.
The all-new CTS will go on sale in the UK early 2008 in right-hand drive form, joining the European-built BLS and other models in RHD and giving Cadillac almost a complete RHD range.
The US luxury brand has started slowly in the UK, selling around 100 cars in 2005 and 200 in 2006. But GM has vowed to put some more muscle behind the brand in areas such as fleet sales, which should help it push on toward annual sales of 1,000 units by the end of the decade.
The new CTS is a more aggressively styled car than the old model, with a large, bold grille and characteristically angular lines , while the interior is more European in style, using metallic and wood detailing. The CTS will feature a 3.6-litre direct-injection V-6 engine, and it is designed to appeal to younger buyers.