Autohome breaks down benefits of new Renault Trucks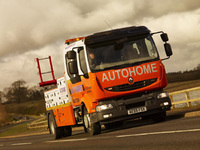 UK and European Assistance Breakdown company, Autohome, has taken delivery of a new Renault Master and two Renault Midlum 280.14 trucks, through Renault Trucks distributor, WTL Truck & Van Centres Ltd (WTL). One of the Renault Midlums has a specialist, high spec crew cab and is fitted with a Zacklift under lift body for vehicle recovery and the other Renault Midlum has a tilt and slide body.
The vehicles join a mixed fleet of 15 trucks and vans and will operate as part of the company's UK and European breakdown service. The new additions are part of Autohome's fleet expansion programme.
James Robinson, Managing Director, Autohome, says: "We have a number of Renaults already on our fleet and we are choosing to move towards more Renaults in the future, mainly because of the service and back up we receive from Renault Trucks and WTL. The high spec crew cab on the Midlum was also especially important to us, so that we can comfortably carry passengers after attending breakdowns. With the vehicles working all over the country, as well as the Continent, we need reliable vehicles which, based on our experience, is another reason for our decision to purchase more Renaults."
Based in Northampton, Autohome was established nearly 40 years ago, offering 24 hour breakdown assistance. The company has an extensive network of recovery specialists and its own fleet, enabling it to provide premium recovery service throughout Europe.