Team Cadillac to field two champions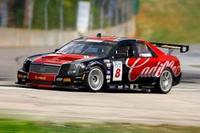 Team Cadillac will have two champions on its driving roster in pursuit of the 2007 SCCA SPEED World Challenge manufacturers' championship. Lawson Aschenbach, the 2006 SPEED GT champion, will join 2005 SPEED GT champion Andy Pilgrim as full-season drivers with the Cadillac factory road racing team. They will drive a pair of Cadillac CTS-V race cars sporting fresh new graphics and livery.
"Team Cadillac is proud that we will have the latest two SPEED GT champions in our stable this year," said Team Cadillac program manager Dave Spitzer. "Lawson showed last season that he has the speed and the skills to win championships. He's an articulate and intelligent young American driver, and we think he is going to be a great fit with Team Cadillac."
Aschenbach, 23, scored one win and finished in the top 10 in every race last year en route to the SPEED GT drivers' championship. He will be paired with Pilgrim, who finished third in the championship standings with one victory and four podium finishes in 2006.
"I've done two tests with Team Cadillac so far, and they went really well," said Aschenbach. "That was the first time I've driven a front-engined race car – all of my previous racing experience has been in open-wheel and rear-engined cars. It was an unbelievable ride in the Cadillac CTS-V on the first couple of laps. I really enjoyed the handling and the horsepower – I think the Cadillac is going to suit my driving style.
"Our goal as a team is to win the manufacturers' championship for Cadillac in 2007," Aschenbach added. "Working with Andy is a great experience. He has detailed knowledge of the CTS-V race car and is a first-class person, totally unselfish – I couldn't ask for a better teammate."
English-born Pilgrim has been with Team Cadillac since its inception and 2007 will mark his fourth season in the black Cadillac race cars.
"Lawson is young, but he's already very experienced in racing and obviously has a lot of talent," said Pilgrim. "I'm looking forward to having him as a teammate. Our first goal is to win the manufacturers' championship. I'd like to win the sixth drivers' championship of my career, but you can't plan to win a championship. I'll prepare for every race the best I can, and the championship will take care of itself."
Team Cadillac will unveil its new look for 2007 at the Cadillac / Mobil 1 Super Bowl Celebrity Grand Prix go-kart race in Miami, Florida on February 3, 2007. The new graphics package retains the team's hallmark black and red colours of previous years, and adds the famous Cadillac script.
Aschenbach will carry the No. 1 on his Cadillac CTS-V that signifies the series champion, while Pilgrim's car will wear his familiar No. 8.
The 2007 SPEED World Challenge GT series commences with the 12-Hours of Sebring, Florida, on March 16, 2007.