Aschenbach takes second for Cadillac in Sebring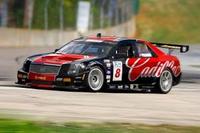 For the fourth consecutive year, Team Cadillac was on the podium in the season-opening round of the SCCA SPEED World Challenge GT series at Sebring International Raceway, Florida, on March 16. After three consecutive second-place finishes by Andy Pilgrim, this year it was Lawson Aschenbach who claimed runner-up honours in his first race with Team Cadillac.
"We had a great run today and my Cadillac CTS-V race car was flawless," Aschenbach declared. "This is a great way to start the season with a podium finish. We'll see if we can get to the top step at the next race in Long Beach."
Aschenbach combined savvy driving with solid race strategy to begin Team Cadillac's pursuit of the SPEED GT manufacturers' championship in style. The race began with standing water on portions of the track following an intense thunderstorm, but the racing line was drying rapidly when the field took the green flag in a single-file rolling start.
Aschenbach, the 2006 SPEED GT champion, started his No. 1 Cadillac CTS-V fifth in the queue, one spot behind teammate Pilgrim. The twin Cadillacs steadily gained positions in the opening stages and were running third (Pilgrim) and fifth (Aschenbach) after completing five laps. When the second-place contender suffered an apparent mechanical problem on the ninth lap, the Cadillac drivers moved up to second and third.
A restart following a full-course caution from lap 11 to lap 13 proved decisive. Aschenbach challenged the field when racing resumed and moved to second, while Pilgrim was having problems with his gearbox and fell back to sixth. Aschenbach pursued the leader relentlessly to the end of the 18-lap race, finishing just 1.429 seconds behind the winner. Pilgrim was sixth across the finish line after a spirited duel with a pair of Porsches in the closing laps.
"We really wanted to win this race, but the Corvettes are tough to pass," Aschenbach reported. "They're 125 pounds lighter than us and use the same engine as our Cadillac CTS-V race cars. I can't say enough about Andy. He had a bout of bad luck this weekend and deserves to be up here along with me. I'm sure he'll be back."
Pilgrim saw his streak of podium finishes at Sebring end at three.
"Unfortunately I had a gearbox problem so I was nursing the car," he explained. "I couldn't shift gears if there was any lateral load on the car. I figured out what was happening, but I couldn't race like that, so I just tried to stay out of trouble. It's disappointing, but sixth is better than seventh."
Cadillac is second in the manufacturers' championship and Aschenbach is second in the drivers' standings.