Corvette Racing scores 1-2 finish in Sebring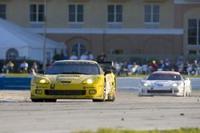 Sebring International Raceway witnessed an exemplary performance by Corvette Racing on March 17 as America's premier production sports car team scored its fifth GT1 class win in six years in Florida's classic endurance race, the Mobil 1 Twelve Hours of Sebring.
Oliver Gavin, Olivier Beretta and Max Papis drove their Compuware Corvette C6.R to a 17.863-second victory over their Corvette Racing teammates Johnny O'Connell, Ron Fellows and Jan Magnussen – 10 laps clear of their closest rivals.
The Corvettes maintained peak performance throughout the grueling 12-hour race, completing 341 laps around the 3.7-mile, 17-turn circuit. Both cars made 12 routine pit stops for fuel and tyres after 55-minute stints. Their final stops came with five minutes remaining for a splash of fuel and a final dash to the finish line.
"The Corvette C6.R was a joy to drive all day - there wasn't a single thing that went wrong," said Gavin, who drove the victorious Corvette to the chequered flag, with a winning margin of 10 laps over the third-place Aston Martin
After two days of bad weather, race day began with an unexpected sunrise as Corvette Racing unveiled the No. 3 Compuware Corvette in brilliant Arctic White paint, a salute to the limited edition Ron Fellows ALMS GT1 Champion Corvette Z06. The race began under clear skies with cool 60-degree temperatures. Fellows and Gavin started the 12-hour endurance challenge in the No. 3 and No. 4 Corvettes respectively, with Fellows taking the lead in the GT1 class at the start. The two cars held first and second in the class standings through the first two pit stops and driver changes. After two hours and 40 minutes of racing, Gavin took the lead following the third round of pit stops.
"We had a great battle with the No. 3 Corvette, and the turning point occurred when I was able to get through the traffic and gain some distance as I came in for my stop," Papis reported. "Then with Gavin's out-lap, we gained just enough distance to get around the No. 3 car. After that, continuously perfect pit work by the mechanics and great strategy by our engineer, Steve Cole, delivered our victory," Papis concluded.
"Our Corvette was fast, strong, and fantastically reliable," added Beretta, who scored his record-setting 29th career ALMS victory. "Everything went very smoothly in the race. I stayed out of traffic and stayed off the curbs."