CTS Sport Wagon: Cadillac's luxury estate breaks cover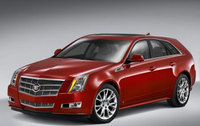 The 2010 Cadillac CTS Sport Wagon made its world premiere at the Pebble Beach Concours d'Elegance, in Monterey, California on 15 August 2008.
The new CTS Sport Wagon has a distinctive and dynamic presence. The first view of the car's intricately sculpted rear profile demonstrates Cadillac's commitment to cutting edge styling and its "Art and Science" design philosophy, so successfully implemented on the CTS luxury sport saloon, recently launched in the UK, and the CTS Coupe Concept.
The right-hand drive 2010 CTS Sport Wagon is expected to arrive in Cadillac's UK showrooms in the autumn of 2009.
"The addition of this dramatically-designed Sport Wagon is well synchronised with today's changing consumer tastes as a compelling alternative to SUVs or other larger vehicles," says Jim Taylor, Cadillac general manager. "This is an important step in Cadillac's ongoing global expansion, and of course in international markets like Europe, wagons have been and continue to be very significant. The CTS Sport Wagon is an important expansion to the Cadillac line-up worldwide."
The new model's striking profile communicates a performance-oriented character in tandem with high aerodynamic efficiency. It rides on the same wheelbase as the CTS sport saloon and is 7 mm shorter overall, yet still offers a generous luggage capacity of 720 litres behind the rear seats.
Design highlights include:
Signature V-shaped tailgate motif
Large, vertical taillamps with light-pipe technology
Power-opening tailgate (via key fob or in-vehicle button)
High-mounted rear brake light integrated in subtle roof spoiler
Integrated roof load management system with cross bars for a seamless appearance
Interior luggage management system with flexible in-floor space
New 19-inch alloy wheels
Optional panoramic rear sunroof
For the UK, the CTS Sport Wagon will include features such as a fully integrated infotainment system with 40-gigabyte internal hard drive and pop-up navigation screen, and a hand-cut-and-sewn leather interior.
UK engine and transmission options are yet to be finalised. US models will be available with 3.6-litre V6 engines, and an efficient 2.9-litre turbo-diesel engine is being developed for CTS models primarily for European and Asian markets. It is a compact, dual overhead cam, V6 engine from GM's family of diesel engines that delivers optimal fuel economy as well as reduced emissions and noise. The engine is rated at 250 ps.
Design details
"It's a taut design that not only suggests sleekness, but delivers it," said Clay Dean, global design director for Cadillac. "Indeed, the drama of the saloon is amplified in the CTS Sport Wagon, as the centreline cue that is part of the exterior and interior is more prominent and plays a stronger role in defining the design at the rear of the vehicle.
"The more you study the rear of the CTS Sport Wagon, the more you see. Functionality was certainly a guiding factor during development, but so was the idea to inject emotion into the normally sedate wagon category," adds Dean.
One of the more interesting integrations of form and function is found in the seamless roof load management system. Rather than abrupt stanchions, brackets and cross bars that protrude above the roof line, the CTS Sport Wagon's system blends with the roofline, maintaining an uninterrupted appearance. The central section of the roof panel angles downward inside the roof edges, allowing an unobtrusive placement of the cross bars – and creating a subtle fin effect at the trailing edges of the rear panels.
"They're not fins in the classic sense, but they work to help disguise the cargo load system and, yes, they acknowledge Cadillac's design heritage," concludes Dean.