Cadillac scales steps to Royal Automobile Club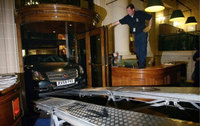 Pedestrians and drivers witnessed an astonishing sight this morning when a car was brought into a London private members club. The extraordinary manoeuvre, using a combination of hydraulically lifting ramps and an electric winch, raised a new Cadillac CTS luxury saloon from the street level on Pall Mall to the height of the Rotunda in the Royal Automobile Club.
The car will be on display in the reception foyer of the Club from 20 – 29 October. The American luxury car brand has been afforded the rare privilege – only club members are usually permitted to use the foyer area to display their classic and vintage cars – to celebrate the centenary of winning the Dewar Trophy.
In 1908, under the close scrutiny of sceptical Royal Automobile Club officials, three Cadillacs were dismantled, their 2000 parts shuffled and the cars rebuilt in a test of 'mechanical standardisation' that at the time was unheard of in the UK and Europe. To the amazement of the media and the Club, the three rebuilt cars started without fault and each successfully completed a 500 mile full-throttle endurance run around the famous Brooklands circuit.
"I would like to extend my thanks to the Motoring Committee of the Royal Automobile Club for allowing us the privilege to display our latest model in their club," said Jonathan Nash, director in charge, Cadillac UK.
"The Dewar Trophy win of 1908 was a remarkable and definitive moment in the early history of the Cadillac brand in Europe. One hundred years on from successfully meeting one of the Club's most challenging tests, the brand is once again at the start of a very important chapter. The Cadillac CTS being displayed here for the next 10 days spearheads a new generation of models coming to the UK and it's entirely fitting that the Club is once again associated with part of the history of this iconic American brand in this country."
The Dewar Trophy was presented to the Royal Automobile Club by Sir Thomas Dewar in 1904, and was first awarded in 1906, to promote technical progress in the automotive field. The award is held in as high regard today as it was in the earliest years of the 20th century, with recent winners including the JCB Dieselmax world diesel land speed record breaker.