Autoglym and Pistonheads launch new Caterham Challenge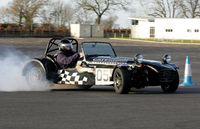 Leading British car care brand, Autoglym, has teamed up with the UK's biggest online motoring forum and news source, PistonHeads.com, to launch a brand new driving challenge.
The Autoglym PistonHeads Caterham Challenge (APCC) will be held over several qualifying rounds of tyre-smoking, high-octane action, with the best drivers from each qualifier going through to a grand final.
Competitors will test their car control skills to the limit in 150bhp versions of Caterham's legendary Seven sportscars at venues across the UK, including the Brands Hatch and Silverstone circuits.
The top three drivers from each of the rounds will automatically be entered into the final, in which they will compete for both eternal notoriety and a collection of excellent prizes – some of which money just can't buy.
Places on the APCC rounds, which start at Brands Hatch on April 22 and Silverstone on April 24, will cost £195 each and will be based on the hugely popular Caterham Drive Experience (CDX) days.
The final – free for all qualifiers – will take place in September. All finalists will receive a fully-stocked Autoglym car care valet case. The champion will win a prize package that includes:
The chance to take their own car to Autoglym's Letchworth HQ for a full valet performed by its team of experts
A slot to take part in a group car test with the Pistonheads.com editorial team
A Caterham Seven for a weekend, as well as tickets to the end-of-season Caterham Awards ceremony
Autoglym's marketing director, David Rogers, said: "The synergy between our high performance car care products, the huge enthusiasm of the PistonHeads community and the motorsport heritage of Caterham Cars is perfect. The APCC will be enormous fun and a real test of driving skill – being one of the grand finalists alone will give PistonHeads members enormous bragging rights on the forums, let alone being crowned the champion."
PistonHeads publisher, Paul Garlick, added: "Our members spend so much of their time talking about cars and driving – this challenge, using one of the most legendary driving machines in the world, will be the ultimate expression of their passion for getting behind the wheel."
For more information, visit pistonheads.com. To view available APCC dates and book your place, visit caterham.co.uk and click on Online Store.