March sales success for Chrysler UK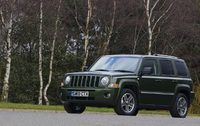 Chrysler UK is celebrating a March sales success with 986 vehicles registered, 12 per cent up on the same month last year and an overall rise in volume of 18.3 per cent year to date.
Much of this success is down to the highly popular Jeep Patriot, of which 329 models were sold during the month, closely followed by Dodge Journey and Chrysler Grand Voyager. Other notable successes were Jeep Grand Cherokee and Chrysler 300C which have shown a sharp increase in registrations when compared year on year.
Chrysler Group LLC in Auburn Hills, Michigan recently announced total International sales (for markets outside the United States, Canada and Mexico) were 13,777 – a 32 per cent increase over February 2010 sales. Chrysler UK Ltd was the market leader for the Company in European markets.
Federico Goretti, Managing Director of Chrysler UK Ltd, said: "Despite challenging market conditions, I am delighted that Chrysler sales for March have been strong, a clear signal of the strength of our product range and appeal to customers."