Balance of power shifts for 2011 model year Audi Q7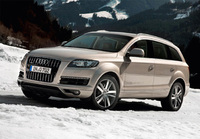 Emissions, and in some cases engine capacities, in the new Audi Q7 range for 2011 take a significant tumble as part of the wider Audi initiative to optimise efficiency across its 36-model line-up. Thanks to the last word in supercharging, turbocharging and transmission technologies, the latest Q7 models match or exceed their predecessors on power and torque, but benefit from fuel economy improvements of up to 19 per cent with attendant CO2 reductions. They are available to order now and will reach their first UK customers in June.
The key changes include the introduction of two versions of the supercharged 3.0-litre TFSI engine to replace the naturally aspirated 3.6-litre FSI and 4.2-litre FSI petrol units, the replacement of the 3.0-litre TDI unit with a considerably lighter and more fuel efficient successor and the integration of the new eight-speed tiptronic transmission first seen in the A8.
Already the star of the much praised Audi S4, and also familiar from the A6 and A6 allroad quattro, the new 3.0-litre TFSI petrol engine uses supercharging to compensate very effectively for its smaller capacity. Within the 90-degree angle formed by its cylinder blocks there is an engine-driven supercharger that compresses the intake air. Two charge-air intercoolers prevent the air temperature from rising, so that the engine draws in more oxygen for the combustion process.
The first of the two versions of the supercharged V6 replaces the 280PS 3.6-litre FSI, and offers 272PS and a 40Nm torque advantage with 400 Nm over a broad engine-speed range from 2,250 to 4,750 rpm. It powers the Q7 from a standing start to 62mph in 7.9 seconds, a 0.6-second improvement over its predecessor, and gives it a top speed of 140mph.
The more powerful version that takes over from the 4.2-litre FSI delivers 333PS and 440Nm of torque between 2,900 and 5,300 rpm, allowing the Q7 to reach 62mph from rest 0.5 seconds more quickly than the V8 at 6.9 seconds, and to continue to a top speed of 152mph.
No less impressively, both versions achieve a combined cycle fuel economy figure of 26.4mpg, an improvement of 12 per cent over the naturally aspirated V6 FSI and 16 per cent over the V8. With a shared CO2 output of 249g/km, both also benefit from major reductions of 40g/km and 55g/km compared with the models they replace.
Improved 3.0 TDI now with start-stop
The diesel line-up has also been extensively reworked, the most notable changes benefiting the 3.0-litre V6 TDI, which in its latest form is essentially new from the ground-up, and 20kg lighter as a result. Constructed using a complex new cylinder wall machining process that reduces friction, and aided by newly introduced engine start-stop technology, the second generation V6 employs an even more responsive turbocharger, an enhanced common rail fuel injection system and new chain-driven timing gear to deliver a 19 per cent improvement in fuel economy compared with its predecessor.
In the combined cycle test it achieves 38.2mpg, which equates to an impressively low CO2 output of 195g/km, yet with a rated output of 240PS and a constant 550 Nm of torque available all the way from 1,750 to 2,500 rpm, it is also capable of powering the Q7 from rest to 62mph in 7.9 seconds – a 0.6-second improvement - and on to a top speed of 135mph.
The crankcase and cylinder heads of the new 3.0 TDI have separate cooling water circuits connected together by valves. During the warm-up phase and when loads are not high, the coolant is not circulated in the engine block. This saves energy and raises the oil more quickly to its regular operating temperature.
World's cleanest diesel technology
The world's cleanest diesel engine technology is of course also a feature of the latest Q7 range in the continuing Q7 3.0 TDI Clean Diesel, which not only already meets more stringent EU6 exhaust emission limits that are not due to come into force until 2014, but also tough US regulations. Special combustion chamber sensors and a DeNox catalytic converter in the exhaust system further reduce oxides of nitrogen by means of an additive. The 3.0 TDI clean diesel also develops 240PS and has an impressive 550 Nm torque output between 2,000 and 2,250 rpm. It takes the Q7 from a standstill to 62mph in 8.1 seconds, 0.4 seconds more quickly than before, and gives it a top speed of 135mph. Thanks to the new tiptronic transmission it works with, combined fuel economy works out at 33.6mpg, a six per cent improvement over the original version, resulting in an impressive drop in CO2 from 234g/km to 219g/km.
The Q7 4.2 TDI also benefits from an improvement in fuel economy, up from 28.5mpg to 30.7mpg, thanks to the new cylinder wall construction methods and the upgraded common rail injection system. The 340PS V8 diesel also delivers 40Nm more torque than before, with an impressive 800 Nm on tap between 1,750 and 2,750 rpm. The big TDI engine gives the Q7 distinctly sporting performance figures, powering it to 62mph in 6.4 seconds and on to a top speed of 150mph.
Eight speeds now standard
A new automatic transmission has also been instrumental in the achievement of considerably greater efficiency in the latest Q7. Based on the original six-speed tiptronic, but with another friction-clutch shift element added, the new eight-speed transmission improves fuel economy by around five per cent. Drivers can choose between 'D' and 'S' modes, or make their own gear shifts in 'manual' mode via the gear lever or the optional steering-wheel paddles. Shifts are quick, well judged and delivered with a smoothness that befits this luxury seven-seat SUV, and the wider spread of ratios made possible enables the engine to operate at lower revs in the higher gears, adding to the relaxed feel and helping to reduce fuel usage.
To cut fuel consumption still further, the torque converter lockup clutch eliminates slip even at low engine speeds. Any engine vibration that could occur as a result is suppressed by the new damper in the torque converter until scarcely any trace can be detected.
In combination with the 3.0-litre TDI engine the new eight-speed tiptronic achieves an exceptionally high level of efficiency. Its oil cooler is heated after a cold start by hot coolant from the engine's cooling system, and an electric oil pump makes operation of the Q7's start-stop system possible: it maintains oil pressure in the hydraulic circuit when the engine stops, and closes the clutch for restarting.
All-wheel-drive reassurance
The new transmission channels power to the four driven wheels via the quattro permanent all-wheel-drive system with the now familiar 40 per cent / 60 per cent front-to-rear torque split for optimum on-road balance. Both on and off the tarmac, the standard five-mode air suspension with its variable ground clearance of between 180mm and 240mm helps the Audi Q7 to iron out surface imperfections. The off-road setting, with 205mm of clearance and adapted damper control, is the perfect setting for cross-country driving.
Inside, the latest Q7 contrasts its rugged exterior with an opulently trimmed cabin that as before can be equipped to up to three specification levels depending on version. Standard, SE and S line options are offered for the 3.0 TFSI 272PS and V6 TDI models, while the 3.0 TFSI 333PS and V8 TDI versions are available exclusively in SE or S line form.
Up to seven occupants can be accommodated in the three rows of seats that are included as standard, and no less than 28 seating and loading configurations giving a maximum load capacity of 775 litres with five seats in place or 2,035 litres with two seats in use guarantee exceptional versatility.