Suzuki Jimny teams up with the RNLI for safer beaches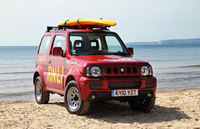 Suzuki is pleased to announce the supply of Jimny compact 4x4 vehicles to the RNLI (Royal National Lifeboat Institution); the vehicles are based at various locations around the UK and used for beach patrol work where conditions require a lightweight vehicle.
9 Red Jimny's have been delivered and are based at Sefton Beaches in the North West; South Hams in Devon, Poole, Bournemouth and Constantine Bay in North Cornwall.
The Jimny's are at the centre of beach patrol activity, and with its simple to operate push button four wheel drive system it allows lifeguards to be close to the water's edge for long periods; reducing their response time considerably. The vehicles are additionally equipped with everything necessary to carry out regular lifeguarding duties and also provide members of the public with a visual contact point on the beach. The Jimny's are working in close collaboration with the inshore rescue boats and jet ski rescue water craft that are also operated by the charity.
On hand to assist the Jimny in the sand is Suzuki's Drive Select 4x4 system which features a transfer box with high or low ratios as well as the ability to engage high ratio while travelling at speeds of up to 62mph. Jimny is fundamentally designed to cope with all off road conditions with its 190mm ground clearance and generous approach and departure angles.
The Jimny celebrates its 40th Anniversary this month and was the world's first compact 4x4 back in 1970 when it was introduced as an affordable and lightweight but fully capable on and off road vehicle. It was powered back then by a 360cc two stroke engine and has evolved to meet the changing needs of customers while retaining its core values of lightness and fully fledged 4x4 capability. Jimny has a devoted following of 4x4 owners across 188 Countries and Regions globally with more than 2.48 million global sales to date.
The current Jimny was first introduced in 1998 and utilises a flexible 1.3-litre four cylinder engine, offering 85PS with official combined fuel consumption of 39.2mpg and CO2 emissions of 171g/km, making it one of the least polluting 4X4's in its class.
Jimny is available from £10,995 for the SZ3 model and includes metallic paint, air conditioning, front fog lamps, roof rails and remote central locking as standard equipment.