Asda feeds football fever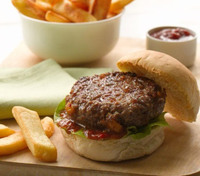 The TV's tuned, friends are gathered and the countdown to the most excitable season of 2010 has begun - it's time to fill up for the four-week football extravaganza.

Asda has a huge new range of World Cup inspired food to make entertaining easy during pre-match warm ups and half-time huddles. Asda is ensuring customers' score winning points in the kitchen, no matter which country they support this World Cup season!

Family feasting - What better way to fire up the family for the first match than with a generous selection of Asda's freshly prepared Indian and Pan Asian Meals (£2.98) for a delicious summer feast from the East. Asda's Takeaway counter staff are on hand to serve up a choice of dishes fit for a banquet, using only top quality fresh and authentic ingredients. Indulge in Asda's new authentic flavours such as Salmon Fillet in Tamarind, Malaysian-style Chicken Sambal and Sweet Potato & Red Pepper Dhansk.

Snack and share - Asda's Great-To-Share snacking range launches on May 10th, so pick any 3 items for £5 for a great value family picnic in the back garden before the game. Treat the tastebuds to some American favourites with Asda's Poultry Bucket (£6.00); filled with succulent drumsticks and seasoned chicken wings, it's perfect for an al fresco fill-up. Or why not share Asda's NEW Family Tomato Quiche (£1.00) for a mouthwatering feast that will feed all the fans for unbeatable value. No picnic would be complete without a genorous plate of Asda's Nacho Pack (£2.00) to dunk into any one of Asda's new dips (£2.00) such as Jalapeño salsa, garlic & herb or curry dip, alongside some British favourites with a twist, like Asda's Balti Pork Pies for just (£2.00).

Heat up the barbeque - Make a day of it and host a friendly barbeque for all football fanatics to enjoy before the match. Sizzle Asda's Extra Special Roquito Pepper & Soft Cheese British Pork Sausages (£2.28) to substitute the half-time hunger, or grill a traditional barbeque burger with an exotic twist - Extra Special Moroccan Spiced Lamb & Apricot Burgers (£3.00) – simply perfect served inside Asda's Football Rolls (£1.00 for a pack of 4,) for a seasonal football bun baked with a football image on top. Or just dive into a bowl of Asda's Potato Wedges for just (£2.00) - simply perfect with a side of Asda's Bourbon BBQ Sauce (£1.28) for an 'easy-squeezy' condiment.

Grab a 'pizza' the action - If you need to feed a football team after a victorious game, Asda's Pizza of Two Halves (£3.00 – pictured) are generously made to have fans cheering for more. The pizza is available in Margherita & Hawaiin or Margherita & Spicy Pepperoni flavours. Or customers can create thier very own perfect pizza and pop in-store to Asda's deli counters, bursting with multiple-award winning pizza's that are sure to score a winner for entertaining! Why not try your own Italian creation, where our extended range of toppings means customers can decorate a blank - cheesey – canvas, made just the way you like it.

The sweet spot - For little Lampard's in the making, why not treat the kids' sweet tooth to a decorative and delicious bite from Asda's In-Store Bakery? Football Fairy Cakes (£1.00), Mini Toffee Iced Doughnuts (£1.00) and Football Gingerbread Football Men (£1.50) will hit the spot, but for die-hard England fans, try Asda's World Cup Vanilla & Strawberry ice cream- emblazoned with a St George's cross (£1.50).