Suzuki 'whizzes' in to SMMT test day at Millbrook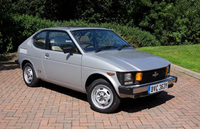 At this year's SMMT test day at Millbrook on May 27th the Suzuki press office will be bringing along an extra car that should not take up too much space – a 1982 SC100GX –- more fondly known in the UK as the 'Whizzkid'.
The SC100 Whizzkid is a product of Suzuki's wealth of experience in 'Kei' car design in Japan where very compact and lightweight vehicles are manufactured to qualify for lower taxation and favourable parking in crowded Cities. This model was first introduced in the UK in 1979 and since then has developed a cult following of enthusiast owners. At a price of only £2,400 in 1981, demand always outstripped supply and just 4,693 were sold up until the end of 1982.
The SC100 is powered by a 970cc four cylinder engine developing 47hp with 83Nm of torque at 2,500rpm. It is just 3,190mm long, 1,395mm wide and 1,220mm high, weighing only 655kg. Initially available with a 540cc three cylinder engine in some global markets, the later cars with heavier four cylinder engines were fitted with a counterweight in the front bumper to help balance weight distribution from the rear engine, rear drive layout.
The UK GX version was well specified as standard with reclining cloth seats, cigar lighter, heated rear window, push button radio, rack and pinion steering and all round independent suspension – a rare fitment back in the late seventies and a suspension design that Suzuki pioneered 25 years earlier in 1955 with the Suzulight. Top speed was 87mph and 0-62mph acceleration was a reasonable 16.5 seconds.
The Suzuki GB owned car is one of the last registered and is a concours example having been painstakingly restored six years ago to its exact original specification by the import centre at Portbury, near Bristol. Only 130 are known to survive on UK roads.

When the Whizzkid rolled off the production line, Rachelle was passenger in an even smaller four-wheel vehicle, her pram, as she was just two months old and Alun was two years into his technicians apprenticeship. If you are able to attend this year, we look forward to meeting you again at Millbrook and, weather permitting, the Whizzkid will be available for brief test drives within the facility; although probably not for lane five of the banked high speed bowl!