Alfa Brera and Spider with new engines and added style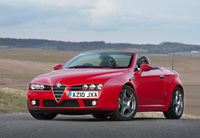 Alfa Romeo UK has recently introduced its new 200 bhp 1750 TBi petrol and the 170 bhp 2.0 JTDM diesel engines to the head-turning Alfa Brera coupé and Alfa Spider convertible range, following the unveiling of the powerplants in the Alfa 159 range late last year.
The Alfa Brera and Alfa Spider perfectly encapsulate the characteristics most synonymous with Alfa Romeo – sportiness and elegance – and now with the latest in engine efficiency and refinement, the updated line-up in the Brera/Spider range has never been stronger.
In addition to the two new engines produced by Fiat Powertrain Technologies (FPT), an exclusive edition trim level will be available, known as Italia Independent – featuring unique content including a matt black titanium exterior finish, 18" black opaque turbine design alloy wheels, carbon fibre effect trim inserts and a radio/sat-nav system. The Italia Independent trim will be available on all Alfa Brera and Alfa Spider derivatives.
1750 TBi 200 BHP TURBO PETROL ENGINE
The new Alfa Romeo 1750 TBi engine embodies a long heritage of motoring excellence. The new, lightweight, variable valve timing, direct injection turbocharged engine develops an impressive 200 bhp along with 320 Nm of torque to bring new levels of drivability to the Alfa Brera and Spider range.
Perfectly complementing the current engine line-up, the new 16-valve, twin overhead camshaft 1742 cc petrol unit promises keen fuel efficiency, along with much lower CO2 emissions, down to 189 g/km for the Alfa Brera and 192 g/km for the Alfa Spider.
Significantly, through a process known as 'scavenging', the maximum torque of Alfa Romeo's new petrol engine is achieved at just 1400 rpm – little more than tickover speed – with maximum power developed between 4750 and 5500 rpm.
From a standstill, the 1750 TBi engined Alfa Brera and Alfa Spider reach the 0 - 62 mph acceleration benchmark in virtually identical times of 7.7 and 7.8 seconds respectively, before both topping out at 146 mph. However it is the on-road flexibility of the in-gear acceleration that sets the engine apart from its competitors – offering a more sporting driver experience consistent with a 'flat' torque curve and a constant delivery of power – perfect for confident overtaking and relaxed long distance driving.
Routine maintenance intervals for the 1750 TBi version will be set at every 21,000 miles.
2.0 JTDM 170 BHP DIESEL ENGINE
Given that Alfa Romeo introduced common rail diesel technology more than 10 years ago on the Alfa 156, it should come as little surprise that a new diesel unit has now been developed that brings higher power and torque values, yet, at the same time, increases fuel efficiency and lowers CO2 emissions.
Alfa's 2.0 JTDM powerplant develops 170 bhp available at just 4,000 rpm, and the latest incarnation of its MultiJet technology means that the 2.0 JTDM unit delivers its maximum torque of 360 Nm between just 1750 rpm and 2500 rpm.
Significantly, the new 2.0 JTDM powered Alfa Brera and Alfa Spider cover the 0 – 62 mph sprint in just 8.8 and 9.0 seconds respectively, and possess a top speed of 135 mph. CO2 emissions are reduced to just 142 g/km – putting these vehicles into one of the lower road charge tax bands.
Routine maintenance intervals for the 2.0 JTDM version are set at every 21,000 miles.
LATEST TRIM ADDITION - ITALIA INDEPENDENT
From the exterior, the Italia Independent trim is distinguished by its head-turning matt black titaniuim finish, 18" black opaque 'turbine' design alloy wheels, red brake calipers and Alfa 8C inspired aluminium fuel cap.
Internally, the car boasts a sporty black leather bound steering wheel and gear knob with red stitching, carbon-fibre trim inserts, sports dials, black sports leather upholstered seats with Italia Independent branded headrests, aluminium sports pedals and foot rest, and a high-tech radio/sat-nav sytem with Blue&Me.