Celebrate National Family Week with Chrysler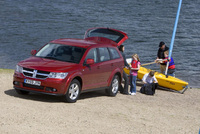 Chrysler has joined forces with National Family Week, which takes place between 31st May (Bank Holiday Monday) and 6th June, and encourages families to spend more quality time together.
National Family Week, is the UK's biggest ever celebration of family life and aims to create a more family-friendly culture in the UK. The week long initiative is the perfect opportunity to bring families together to celebrate family life at one of the 5,000 free events taking place up and down the country. The events are run by a huge range of community groups, charities, sports associations and local councils. Several of Chrysler's dealers will be taking part in many of the flagship events around the country.
To celebrate National Family Week, Chrysler is giving away a fantastic seven seat Dodge Journey worth over £17,000 to one lucky family. To be in with a chance of winning simply enter the competition at chrysler.co.uk/family or nationalfamilyweek.co.uk/competitions. Working in conjunction with ITV1's This Morning and the Daily Mail, Chrysler is also giving away a further two Dodge Journey's.
The seven seat Dodge Journey is the ultimate family car that has been built with the comfort of the whole family in mind. Equipped with a number of features including a Tilt 'n Slide™ flexible seating system with two integrated second row child booster seats; spacious under-floor storage bins; rear doors that open to 90-degrees for easy access; a rear conversation mirror and three-zone climate controls that allow each passenger to adjust the temperature where they sit. The Dodge Journey ensures that whenever you're away from home you can have all the creature comforts you need to keep everyone entertained, so there's no need for mum, dad or the kids not to be happy.
A study commissioned by National Family Week revealed that over three quarters of parents (77%) cite days out together as the best example of quality family time whether this is be at theme parks, events, historic landmarks and museums. Lifestyle commitments and money were cited as the daily challenges that prevent families being able to spend quality time out together.
Nigel Land, Marketing Director at Chrysler UK Ltd, said: "We are delighted to be the official partner of National Family Week and look forward to celebrating with families all over the UK.
"Chrysler is renowned for its range of family-friendly vehicles and offers all the right ingredients - luxury, equipment, comfort, versatility and performance at a very competitive price. In fact, Chrysler created the MPV market over 25 years ago and has been part of the family to millions of people all over the world."