Suzuki makes a "Splash" for charity with Ty Hafan Hospice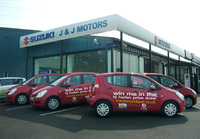 As part of their 25th Anniversary celebrations, Suzuki's J&J Motors are pleased to announce they will be sponsoring the Welsh children's charity T? Hafan. J&J Motors began in November 1984 when John and Jacky Plimmer purchased the village garage in Porthyrhyd, near Carmarthen. Over the following 25 years the company grew to its present size of six dealerships representing Suzuki (and four other manufacturers), employing over 100 staff and selling over 3,000 cars a year.
T? Hafan is the family hospice for young lives, which helps life-limited children, young people and their families make the most of the time they have left together. It offers specialist palliative care in the form of short breaks at the hospice, support for the whole family whilst they are at home as well as a range of outreach services. From diagnosis to bereavement and beyond T? Hafan takes its support right into the heart of the family home.
J&J Motors have donated a Suzuki Splash to give away as the main prize in the Crackerjackpot Christmas Draw which will run from September. Tickets will be available for £1 each in all the T? Hafan charity shops across Wales, on the T? Hafan lottery page online or in one of the J&J Motors dealerships. As the proud sponsors, J&J Motors have also donated four more Splash models for use by the hospice and fundraisers. J&J Motors have set themselves a fundraising target of £100,000 and will be organising events throughout the year to achieve this total.
The campaign began on 15 April 2010 with "Bring a Pound to Work Day" where the Suzuki Splash prize was unveiled. Speaking about the sponsorship, John Plimmer, Dealer Principal of J&J Motors said; "The decision was taken on achieving the milestone of our 25th Anniversary that we would like to celebrate by supporting a national Welsh charity. While there are many worthy causes in Wales, a census taken by the employees at J&J Motors who felt that T?Hafan was the one we would like to support during this year. They are a charity organisation that has shops in all the towns our Dealerships operate in.
To find out more about supporting T? Hafan and J&J Motors please visit tyhafan.org and jjmotors.co.uk.