Phase two released of Mitsubishi ASX Challenge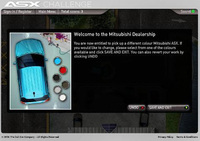 Mitsubishi recently launched the "ASX Challenge Game" to help launch the all-new ASX crossover, which goes on-sale from July 1st this year. The game, designed by Double Fusion, has been a run-away success with over 50,000 people playing in the month since its launch on 19th April.
Now, to celebrate the success of Phase One, Mitsubishi has launched two exciting new mini-games and two new missions.
New missions and mini-games launched
In addition to the earlier challenges, players are now set two new missions ('Lost Cat' and 'Delivery Boy') and two new mini-games ('Packing Puzzle' and 'Country Race').
The game uses cutting-edge technology and Advanced Artificial Intelligence Traffic System – including cars, traffic lights and one-way systems. To further aid interaction and competition amongst friends, gamers can post the game to their Facebook Wall through Facebook Connect and invite their friends by email.
The new missions and mini-games
These 'missions' and 'mini-games' unlock new product features and accumulate points and prizes along the way. In a new innovation, players can also now pop into the game's very own Mitsubishi Dealership and get a new paint job on their car.
Packing Puzzle
With bags of space available in the boot of the new ASX, the 'Packing Puzzle' game challenges you to try and pack all the items in the boot as quickly as possible to score maximum points. Items can be moved around like a puzzle in order to make sure they all fit as efficiently as possible.
Country Race
In 'Country Race', the player is given a free pass for the weekend and heads off to the countryside for a dirt race with friends. You can take control of the ASX and put your foot down to finish first in this classic, arcade car racing challenge. Players only score points by finishing in the first three places.
Lost Cat
In a disaster situation to rival any Hollywood blockbuster, Mr Fluffy, the family cat hasn't been seen for days and the kids are crying their poor little eyes out. In a last gasp effort to find him, the family has printed off a series of "Missing" posters. The challenge? To hop into your ASX and put them up around town as quickly as possible to score prize-winning points.
Delivery Boy
After a hard day's work at the office, you now have to pick up some groceries and pizza before heading home. It's a mission across town to complete all your chores, but will definitely get you some Brownie Points – as well as help you up the ASX leader board!
Playing for keeps
However, players aren't just in it for fun as nearly 500 have already won prizes including free accessories, 3-years free servicing through Mitsubishi's Service Plan and free metallic paint. Nearly two hundred players have managed to accumulate prizes to the value of £1,000 and the competition to win the big prize of a free ASX car is still wide open.
Winners and prizes
Gamers can also earn bonus points by inviting their friends and family to play the game. At the end of the period the top fifty highest scores will be entered into a prize draw to win an all-new Mitsubishi ASX crossover.
The more a user plays the game and the better they do, the more points they can earn and the more prizes they win.
The game can be found by going directly to mitsubishi-cars.co.uk/game, or via Mitsubishi's new ASX Facebook Fan page at Facebook.com/ASXcrossover.
Points structure for prizes:
25,000 points - Free Mats for your ASX worth £45
50,000 points - Accessories worth £200 for your ASX
100,000 points - Free Mitsubishi Service Plan for your ASX worth £350
150,000 points - Free Metallic Paint for your ASX worth £440
Players have until the end June to play the game and earn points.