Lexus celebrates a decade at the top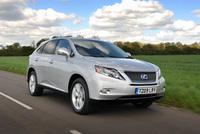 It is good to know that in life there are some things that don't change. And that's certainly true of the way Lexus cars impress their owners more than any other brand. The results of the 2010 J.D. Power and Associates/What Car? Vehicle Ownership Satisfaction Study (VOSS) show that for an unprecedented 10th year running Lexus has achieved the overall top ranking.
This means that the luxury brand has outperformed all others in every year since it became eligible for consideration. This independent recognition is all the more appreciated this year, as it coincides with Lexus's 20th anniversary in the UK
Lexus also achieved the top ranking in three out of the study's four categories: Quality and Reliability, Appeal and Service Satisfaction. Its total index score of 846 was up 12 on last year's results, placing it 57 points ahead of the industry average.
Lexus is a pioneer of hybrid power and the VOSS results demonstrate how Lexus Hybrid Drive technology is delivering the quality, reliability, sophistication and ownership cost benefits premium market customers desire. And Lexus's model range continues to develop in exciting directions, at one of the end of the spectrum with the ultra-exclusive LFA supercar, and at the heart of the premium C-segment with the full hybrid CT 200h, which will be launched at the end of this year.
The study's findings show the IS Sports Saloon was top-ranked among all compact executive cars, while the RX claimed both the SUV category and the distinction of being the top-ranked model overall for a second time.
Belinda Poole, Lexus Director, said: "While everyone within Lexus is delighted with the study results, our focus remains on delivering the service, quality and ownership appeal that our customers expect.
"We are confident that with the expansion of our model range, the further development of Lexus Hybrid Drive and the exceptional commitment of everyone at our Lexus Centres that we can continue to raise the benchmark for others to aspire to."
The J.D. Power and Associates/What Car? VOSS was based on more than 17,000 on-line interviews with UK owners of cars that were on average two years old.