Deposit help for first time buyers in Teesside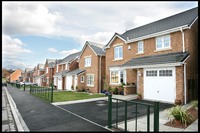 First time buyers on Teesside are being urged not to miss out on a final opportunity to buy a new home with the lowest possible deposit.

They could move into a new Barratt home for as little as £3,850, thanks to the HomeBuy Direct low-cost home ownership scheme.

But the Government-backed scheme is coming to an end because of the squeeze on public spending and buyers only have one more month to take advantage, says Fenton Hewitt, Sales Director at Barratt North East.

"You really only have a month left to sign up if you want to take advantage of this outstanding opportunity to get on the housing ladder with the help of public money," he said.

"Thousands of people across the country have used HomeBuy Direct to buy a home and we've been inundated with local people who are interested.

"I'd advise anyone who is interested to come and talk to us very soon. It doesn't cost anything and we can answer all your questions.

"HomeBuy Direct can dramatically reduce the initial cost of house purchase and for people who have been priced out of the market for years this is a once-in-a-lifetime opportunity to own their own home."

The scheme gives buyers the opportunity to move in for only 70 per cent of the price, with the remaining 30 per cent covered by a loan from Barratt and the Government's Homes and Communities Agency.

Because a smaller mortgage is required, monthly repayments are much more affordable.

HomeBuy Direct is open to a wide range of people who don't currently own their own home. But buyers must reserve their home by the end of July 2010. Eligible households will be earning less than £60,000.

For added peace of mind buyers can also benefit from the exclusive new Barratt five year warranty on fixtures and fittings in their new home at the time of purchase.

Barratt North East has a selection of homes currently available through the scheme at Hardwick Green in Stockton, Mandale Park, Thornaby or Parkside Gardens, Middlesbrough.

To buy a 2-bedroom home at Parkside Gardens, for example, you could need a deposit of only £3,850, or £5,862 for a 3-bedroom home at Mandale Park.

Showhomes at all three developments are open daily from 10.00am to 5.00pm.