Damien Hirst donates Audi A1 'Art Car' for Sir Elton's charity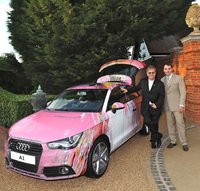 This year's White Tie and Tiara Ball, which takes place on Thursday 24 June and will be held – as always - at the home of Sir Elton John and his partner David Furnish, will feature an extraordinarily special auction item. Audi, which has been one of the Ball's key supporters over many years, is donating an A1 car that has been made into a work of art by Britain's foremost contemporary artist, Damien Hirst.
The unique Audi A1 has been spin painted by the artist in his studio in Gloucestershire, and is fully driveable and road legal.
"This is one of the most exciting auction items we have ever had for White Tie," said Elton John, pictured with partner David Furnish in front of the Hirst Audi. David adds: "Audi has been a wonderful partner with us, and this year they have really produced something fantastic. I am sure it will be a huge hit with our guests." As part of the same Lot, the car will be auctioned with a 6ft diameter canvas spin painting, which Hirst completed at the same time.
The A1 is so new it will not be seen on UK roads until November 2010, and this special artwork has been created even in advance of the car's mainland European launch dates. The uniquely finished example of the premium compact hatchback was produced in close collaboration with Audi AG in Germany, which has been engineering the production for more than six months.
2010 is the eighth year Audi has supported EJAF with special auction lots. The A1 art car is the most remarkable and exclusive donation Audi has ever made. Bidders on the night will have a once-in-a-lifetime chance to own this piece of Hirst's exceptional work.
"We are enormously proud to support Sir Elton John's remarkable fundraising ball for the eighth year in succession with the donation of a priceless and unrepeatable work of art for auction," commented Audi UK Director Jeremy Hicks.
The Elton John AIDS Foundation (EJAF) was established in 1993. It is amongst the 10 largest AIDS grant making organisations in the world, currently managing over £14 million in programmes across 15 countries supporting thousands of men, women and children with life saving medication, as well as information, nutrition, education, shelter and support. The White Tie & Tiara Ball, now in its 12th year, is the EJAF's foremost fundraising event, generating some £40 million since its launch in 1993. For more information visit: ejaf.com