Audi A1 by Hirst fetches £350,000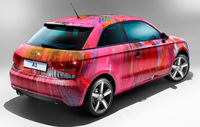 The star of Sir Elton John's White Tie & Tiara Ball last night (24 June 2010) was the Audi A1 car – specially spin painted by Britain's foremost contemporary artist, Damien Hirst – which fetched a staggering £350,000 during the auction. Close to 700 VIP guests from around the world converged on the private home of Sir Elton in Windsor, UK, to support his largest annual fundraiser for his AIDS Foundation.
Hirst took the new premium compact hatchback and turned it into an extraordinarily vibrant, dramatic and colourful work of art. The A1 is so new it will not reach UK customers until November at the end of this year.
The Elton John AIDS Foundation manages over £14 million in programmes across 15 countries supporting thousands of men, women and children with life saving medication, as well as information, nutrition, education, shelter and support. For more information visit ejaf.com.