3,500 bhp Mini from Cummins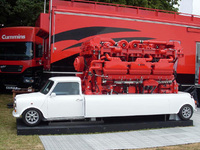 Visitors to this week's Goodwood Festival of Speed will have some amazing machinery on which to feast their eyes but none more unusual than the exhibit which greets them on the stand of Cummins, the world's largest independent maker of diesel engines.
The Cummins centrepiece emerged after a previous show when the company showed off its largest engine (and the largest diesel engine made in the UK). The QSK78 engine weighs in at over 11 tonnes and some wag asked if it could be fitted to his Mini.
Steve Nendick, Cummins' Communications Director - Europe, Middle East, Africa and CIS, takes up the story: "We never like to let a challenge go by unanswered so we got to thinking maybe we could fit the QSK78 into an original Austin Mini. It proved to be a bit tricky to fit under the bonnet but our engineers came up with a more creative solution. "We're certain that the Goodwood crowd will have difficulty believing what they are seeing", he said.
The QSK78, which is used to power mining industry dump trucks capable of carrying 360 tonnes, is a V18 monster with a capacity of 78 litres and uses no less than 12 turbochargers to develop 3,500 bhp and getting on for 14,000 Nm of torque (the original Mini made do with just 80!).