Darlington woman gets new life at The Pastures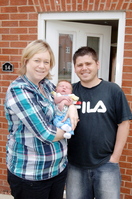 Since moving into a new Miller Homes property, Darlington woman Rachel Walsh has gained a new life in more ways than one – she has also got engaged and has given birth to her first child.

Support worker Rachel Walsh, 29, moved into her two-bedroom 'Ripley' home at Miller Homes' The Pastures development in Darlington less than two years ago and now has wedding plans and new baby girl Holly to keep her occupied.

Rachel, who made the move from a rented house in the Yorkshire Dales to get onto the property ladder and move closer to work, can now spend less time travelling and more time with her new daughter and future husband Mark.

The new mum, whose property is conveniently located close to Darlington town centre and is within easy reach to major roads and a play park, is delighted with her new home, she said: "I'm so pleased with my new Miller home. It's a great place to bring up my new baby. Not only does it have its own garden, but it's also got two good sized bedrooms and is spacious, light and airy.

"When I was looking to move, I specifically wanted a house, rather than an apartment, and this home provided the perfect solution.

"I especially love the way that I can open the French windows in the living room straight onto the back garden, which will be ideal to watch Holly play when she's older. It's a nice quiet location, but still got easy access to major roads so I can nip into town and is close to the park.

"I have some lovely neighbours and have already recommended Miller Homes to two of my friends. I'm really looking forward to our new life here."

Miller Homes The Pastures sales adviser Barbara Kettlewell said: "It was a pleasure finding the right property for Rachel and her partner. Moving house is one of the most stressful things anybody can do in their life but we hope we've been able to make her experience problem free. We're so pleased she feels happy enough to settle in her new home and we wish her all the best with her new family."

Close to Darlington's South Park, and just a 20-minute walk into town, The Pastures is an attractive tree-lined development of new homes in an exceptionally convenient
location. Close to the A1(M), the contemporary homes are in close proximity to Teesside and County Durham.

Prices range from £99,950 for a two-bedroom home, but can be bought for £69,965 on Miller's HomeBuy Direct scheme. A three-bedroom detached property with single garage, carpet package, blinds throughout and turf and fencing in the rear garden, for £142,000 can be bought for only £99,400 on HomeBuy Direct.

The clock is ticking for homebuyers wanting to purchase a home on the Homebuy Direct scheme and Miller Homes is urging people not to miss out on its Homebuy Direct properties at the Pastures. There are only two properties at The Pastures left to purchase on the HBD scheme, which are the three bedroom Blenham house types. Starting from £139,000 this home can now be purchased for £97,300 on the scheme.

With HomeBuy Direct, buyers are offered an equity loan of up to 30% of the purchase price, co-funded by the Government and Miller Homes. Lenders require only a small deposit and buyers will own 100% of their new home. Any household earning £60,000 or less who could not afford to buy a suitable property on the open market is eligible for the scheme.

Show homes at this development include, the three-bedroom detached Woburn and two-bedroom semi detached Ripley.

For further information on The Pastures, visit the sales office open five days a week from Thursday to Monday 10.30am to 5.30pm.