Audrey Hepburn named most beautiful woman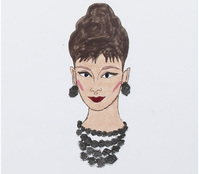 It's official - Audrey Hepburn is the most beautiful woman of our time, according to new research released this week. And snapping at her heels is none other than modern day British sweetheart Cheryl Cole.

To celebrate the start of its Beauty Month, QVC, the world's leading online and TV shopping channel, asked 2,000 respondents to vote on the women from the last century that they thought most deserved the title of beauty icon.

Topping the poll with 13% of the vote is Audrey Hepburn, the British actress and UNICEF humanitarian who starred in Breakfast At Tiffany's and My Fair Lady. While Cheryl is clearly our twenty-first century crush with 12% of the vote, old school glamour prevails with Marilyn Monroe in at third place (8%). Beating love rival Jennifer Aniston into the top five is Hollywood actress and UN Goodwill ambassador Angelina Jolie (6%).

The top ten QVC Beauty Icons are;
1. Audrey Hepburn (13%)
2. Cheryl Cole (12%)
3. Marilyn Monroe (8%)
4. Angelina Jolie (6%)
5. Grace Kelly (5%)
6. Scarlett Johansson (4%)
7. Halle Berry (4%)
8. Princess Diana (3%)
9. Kelly Brook (3%)
10. Jennifer Aniston (2%)

Narrowly missing the top ten were Kylie Minogue, Beyonce Knowles and Audrey Tatou.

Super stylish Daisy de Villeneuve was commissioned by QVC to create portraits of the top four beauty icons using make-up. Daisy used a whole range of products, all available on QVC, on her portraits including over 25 eyeliners, 20 lipsticks and 10 tubes of concealers and foundation.

The make-up portraits will be auctioned by QVC with net proceeds being donated to Breast Cancer Care.

London born Illustrator, designer and writer Daisy de Villeneuve has made a name for herself with her funky, felt-tip illustrations. She studied Fashion and Fine Art at Parsons School of Design in both New York and Paris and since graduating has produced felt-tip illustrations and designs for a host of brands including Topshop, Habitat, Transport for London, Nike and Moet & Chandon. She has produced two books 'He Said She Said' and 'I Told You So' and has held solo shows at London's Fashion & Textile Museum, Liberty and Eleven Fine Art.

For more information, and to view the full range of beauty products available from QVC, visit qvcuk.com or tune in to Freeview channel 16, Sky digital channel 640, Virgin TV channel 740 or Freesat channel 800.