Bristol welcomes Gay Pride event in August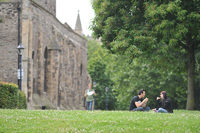 Bristol's Pride Week runs from Saturday 14 August until Monday 22 August and is a celebration of the lesbian, gay, bisexual and transgender (LGBT) community. Pride Bristol 2010 is organised by the LGBT community for the people of the South West.

Pride Week includes numerous diverse cultural events, and culminates in Pride Day, a large free festival in Castle Park on Sat 21 August. The shows, films, events and activities programmed are diverse, inclusive and cover all elements of LGBT life whilst remaining accessible to a heterosexual audience.

Saturday 14 August kicks off Pride Week with a Sports Day on the Downs. With fun games in the morning; rounders, sack races, egg and spoon races which anyone and everyone can join. Then at noon the football and rugby tournaments start, organised by LGBT friendly sports teams the Bristol Panthers (football) and the Bristol Bisons (rugby) respectively. There is also a city wide takeover with shops across the city showing their support for Pride with special offers and in-store events.

August 14 also sees the opening night of Pride Week's LGBT Film Festival with a screening of the critically acclaimed and visually stunning film Children of God. The LGBT Film Festival runs throughout the week at the Watershed and includes the Bristol premiere of Release the new film by local filmmakers Darren Flaxstone and Christian Martin (creaters of the globally successful 'Shank')as well as the very best films shown at 2010's London Lesbian and Gay Film Festival.

Monday 16 August is the date for the gala screening of Oscar winning camp classic film Priscilla Queen of the Desert at the Hippodrome. Prior to the screening of Priscilla LGBT choir Sing Out Bristol will be performing some of the songs which knocked the audience for six at their sell out concert at the Anson Rooms in June.

Tuesday 17 August is the Pride Week night for all fans of awesome blues- rock as Bristol's finest Never the Bride return for a full on, hard-rocking gig at the Fleece. Never the Bride number the likes of Roger Daltrey (the Who) and legendary DJ Bob Harris among their legions of fans.

The Arnolfini hosts the cream of UK LGBT literary talent on Wednesday 18 August. Authors Stella Duffy (Pride Bristol patron), Paul Burston, Rhona Cameron and local writer Jack Wolf are reading from their novels and engaging in Q&A sessions with the audience and a panel discussion.

Rhona Cameron brings wry, observational comedy at its very sharpest to Metropolis on Thursday 19 August. This isa rare stand up show from one of Britain's most gifted comics (and reality TV Queen of the Jungle) and she is ably supported by up and coming trans comedienne Bethany Black.

Theatre during Pride Week is represented by two specially devised pieces 'L' at Circomedia over the first weekend (August 14 and 15) and 'Move Over Darling' a performance by Arnolfini artist-in-residence Tom Marshman at the Arnolfini on Thursday 19 August.

The most unique and potentially important event during Pride Week is a specific transgender event Gender Trouble at the Watershed on Friday 20 August. Gender Trouble includes a screening of the documentary Diagnosing Difference which explores the impact of Gender Identity Disorder diagnosis on people who identify on the trans spectrum. A discussion on gender identity and trans pride with high profile panellists, Roz Kaveney, activist and writer (the Independent, The Times), Finn Greig, National Trans Youth Co-Ordinator and award winning comedienne Bethany Black. There is also an exhibition of new work by trans artists is Waterside 1 and 2 and an exciting new media project 'Trans Voices' featuring trans people from around the globe talking about their lives.

Pride Week culminates in Pride Day a huge free Festival in Castle Park on Saturday 21 August. Pride Day includes a walk from Bristol City Centre to Castle Park at noon where the LGBT people of Bristol and beyond can express their Pride. Once in the park it all starts at 1.00 pm on the main stage, with speeches, live music from great international and local artists, dance, comedy, DJs, drag queens, stalls and fine food and drink galore.

RECOMMENDED ACCOMMODATION

Mercure Bristol Holland House Hotel and Spa
Mercure Holland House is offering Pride Bristol guests a discount from £89BB. This 4-star luxury hotel at the heart of Bristol city boasts 275 contemporary bedrooms. The Phoenix Restaurant has an international menu, while the Phoenix Bar serves up everything from coffees to cocktails. The Spa has an indoor heated pool, as well as a fitness centre. The meeting room facilities include 12 fully equipped spaces for up to 220 guests. Book online at: mercure.com

Destination Bristol has included a travel guide to Pride Week 2010 online at VisitBristol.co.uk or log on to pridebristol.com.