Summer flavour fiesta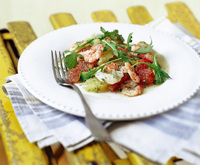 With summer in full swing, now is the time to be looking and feeling your best.

Here's an idea from Waitrose.com for a salad which is not only a well balanced meal but that doesn't compromise on taste. Packed full of flavour, this Prawn and Grapefruit Salad with Lime and Avocado is the perfect Al Fresco salad.

Grapefruit gives this salad a delicious summer twist. Although originally named 'the Forbidden Fruit' the Grapefruit is packed with calcium, folic acid and Vitamin C and A - so it's definitely a tempting treat you can say yes to!

Prawn and Grapefruit Salad with Lime and Avocado
Serves 4

Ingredients:

300g cooked and peeled tiger prawns
2 pink grapefruit, cut into segments
2 white grapefruit, cut into segments
15g pack fresh dill, chopped
2 ripe avocados, peeled, stoned and thinly sliced
50g pack wild rocket
2 limes (1 for juice, the other for garnishing)
1 tbsp Virgin Lands Avocado Oil

Method:

1. Using a small, sharp knife, slice each prawn in half lengthways through the middle. Toss with the grapefruit segments, dill and some seasoning in a bowl.

2. Arrange the avocado slices between 4 serving plates, top with the prawn and grapefruit mixture, scatter with the rocket and drizzle with the lime juice and avocado oil. Serve with slices of lime.

Cook's tips:

This salad also works well with cooked chicken instead of prawns. Replace the dill with a little finely chopped fresh tarragon.

Drinks recommendation:

The versatility and delicate fruit of a Pinot Gris will complement this zingy salad perfectly.