Easy summer dining unearthed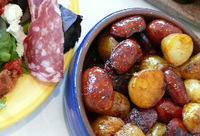 On these balmy summer evenings, families and friends naturally gather together to share a lukewarm bottle of bubbles, stale chips and dips and there's always one person slaving over a hot barbecue, hoping that the charring on the outside means the meat is cooked on the inside.

This year, why not take the hassle out of outdoor dining and host a charcuterie party instead? The trendiest way to entertain friends this summer, charcuterie plates are popping up at the UK's hottest restaurants. To host your charcuterie party, just look to regional food experts at 'unearthed'. They've discovered some of the best Mediterranean charcuterie - perfect for sharing with friends and loved ones.

Try unearthed's Spanish Chorizo, Italian Prosciutto Crudo, Saucisson Sec and Serrano Ham to replicate those hot summer nights on the continent and add cubes of Barrel Aged Greek Feta for a refreshing tang. Spicy Hungarian Salami adds a flavourful twist when coupled with the Hot Chilli Olives or Sweet Cherry Peppers with Ricotta.

Presentation is everything so don't forget to class up your charcuterie. All you need to do is arrange your favourite unearthed charcuterie on a stylish wooden board with a range of accompaniments – Dijon mustard, gherkins, baby cornichons or even artichoke hearts. Serve with crusty bread and a salad or dressed potatoes and a range of regional cheeses. With an unearthed charcuterie board, your creativity can really shine.

As with any stylish occasion, dressing your venue helps so use the best crockery and cutlery that you can find. Light a few citronella candles to keep the bugs at bay, make sure your drinks are chilled and there's ice in the freezer and ensure you've got the right music to suit the mood – the perfect elements to make your charcuterie party a stylish soirée and not a burning disaster. A charcuterie board is easy to move too – ideal for our unpredictable British summers!

There's a whole world of flavours to be discovered in the unearthed range so you can put together a charcuterie board that suits you.

For inspiring recipe ideas or to find out more about unearthed, go to discoverunearthed.com.

The unearthed range is available from Waitrose supermarkets, Ocado and Abel & Cole.