See Britain's Next Top Model Live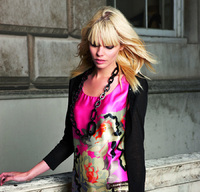 The ultimate weekend shopping extravaganza comes to London for the first time Ever – Britain's Next Top Model Live is here from 22nd – 24th October 2010.

Based on the hugely successful international reality TV show - presented by international supermodel Elle McPherson - Britain's Next Top Model Live is set to be London's biggest fashion and Beauty fix, and every girl's essential event for this season's trends.

Taking place across three days from 22nd – 24th October 2010 at the ExCel Centre in London's Docklands, dedicated followers of fashion and beauty will be able to experience the ultimate in retail therapy – an event designed to bring to life the lifestyle and glamour of Britain's Next Top Model, with a range of fashion shows, exhibitions, shopping, beauty, health and fitness, and interactive features for this Autumn and Winter trends.

Visitors will be able to strut their stuff down the red carpet entrance to the Central Champagne Bar and into the largest selection of the UK's leading high street brands and premium designer fashions, offering some of the latest sensationally stylish collections from the high-street and beyond.

This year's event will also host a series of stunning hour-long Catwalk Shows. Featuring an inspiring range of fashion, designer gowns and unique creations from up and coming talent, and with special appearances from all of the girls from Britain's Next Top Model series 6, alongside top music acts and spectacular live entertainment, within the 3000 seat auditorium, the catwalk shows are guaranteed to leave you with an inspiring WOW factor.

If that whets the appetite, and you want to feel like you've been in an episode of BNTM yourself, visitors can come and learn how to walk the walk like the professionals on the purpose built Open Catwalk, while the BNTM Live photographers capture your debut on camera. Alternatively, if you prefer to stand still, why not come and pout, pose and feel the fame of being a model as you work the camera in the Paparazzi Zone with Company Magazine- an area dedicated to re-creating backdrops and photo shoots from series 6 as well as special locations from around London.

If you're still not feeling like the ultimate glamour puss then make your way to the Powder Room and indulge in free hair and beauty makeovers, pamper treatments and advice from our experts, exclusively tailored to each individual. Or come and learn the tricks of the trade from top industry experts at the Style Icon Workshops that will guide you along the lifestyle path to becoming the ultimate fashionista.

This year's event is also offering visitors the unique opportunity to win a place in Living TV's Britain's Next Top Model Series 7 in 2011 with the BNTM Application Studio. Living TV will be recording Live auditions for applicants for the next series of BNTM. Alternatively, if you prefer to be behind the lens than on a catwalk, you can head for the Live Casting Couch where Models 1 will be seeking out the new faces for their future fashion and beauty campaigns.

From fashion, to beauty tips and pampering, personal styling and catwalk glamour, Britain's Next Top Model Live is the must-see fashion and beauty event of the year, with something for every taste all under one roof.

The first Britain's Next Top Model Live will be taking place from 22nd – 24th October at London's Excel Centre. Book your tickets now for savings - log on to: bntmlive.com

• Standard Ticket £18, includes Entry to the event and a seat within the Main Catwalk.

• Premium Ticket £25 which includes entry into the event, Premium seat within the Main Catwalk Show & Show Guide.

• VIP Ticket £39 gives you entry, VIP seats in BNTML Catwalk, showguide, VIP goody bag and entry into VIP lounge.

The show's Opening times are 11am – 8pm Friday – Saturday, 10am – 7pm Sunday.